Full Film Online: Heavy Metal Parking Lot
Here it is! The original bootlegged underground classic is now officially available for viewing online: The one, the only, the head-bangingly awesome Heavy Metal Parking Lot by John Heyn and Jeff Krulik. Available only as a 100th generation bootleg for years, the entire film — which only runs about 17 minutes — can now be watched on YouTube. Or, embedded right above! For the first time or the thousandth, witness the glory and wonder that was 1986.
For the uninitiated, (there's still some of you out there, right?) here's the set-up: On May 31, 1986 Heyn and Krulik appropriated a public access TV camera and headed to the Capital Centre stadium in Landover, Maryland to interview the metalheads waiting in the parking lot for a Judas Priest concert to start. The filmmakers totally didn't know what to expect, but what they captured is pure cinematic gold: Acres of chemically altered and imbalanced teenagers desperate to show the world how much they rawk!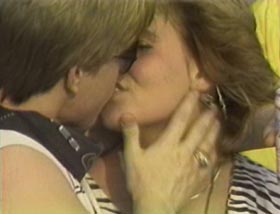 The film is filled with a plethora of fantastic characters, such as Zebraman who yells at punks to go to Mars; Dave, a 20-year-old Air Force inductee who makes out with a 13-year-old girl; the friends of Timmy, who tragically died, yet they get backstage passes to meet their hero Rob Halford; not to mention the numerous girls who would jump Halford's bones if they only had the chance, years before the world would learn that Halford is, in fact, gay.
Yet, HMPL, as its been nicknamed, is never condescending towards its subjects. Krulik and Heyn approach them with a genuine and bemused curiosity. Therefore, these kids and young adults feel comfortable enough to be unfalteringly free to be themselves, to let loose and blow off steam without any inhibitions whatsoever. And it's all done in good fun and in the name of having a good time. There's no mean-spiritedness nor meanness in neither subject nor filmmaker. HMPL is as close to pure joy as any film ever made.
And if you enjoy this wickedly fun little time capsule, there's more! Be sure to buy or rent the DVD edition of the film that comes with over two hours of excellent bonus features, including directors' commentary, outtakes, sequels, alumni reunions, tributes and a head-spinningly lot, lot more. It's a truly amazing package.