Flight — Greta Snider
Flight by Greta Snider (1997)
San Francisco-based filmmaker Greta Snider is primarily known for her unique spin on documentaries. At first glance, Flight may seem like a straight-up experimental film, but reading its official description by Snider shows the work's documentary essence:
My father's photographic legacy, compiled and transformed into light. His family photographs, his hobbyist pictures of trains and roses, his airplanes and his obsession with birds circling…these images are imprinted onto the film, like a fingerprint or trace. The film is hand-processed and hand-exposed without a camera (as with Ray-O-Grams).
In the book The Garden in the Machine, Scott MacDonald describes the "rayogram" technique, which was pioneered in the 1920's by Man Ray with his film Retour a la raison (1923). A "rayogram" is when a filmmaker places objects onto film stock and exposes the film to light. The end result, as you can see in Flight, creates a "negative" cinema of reality.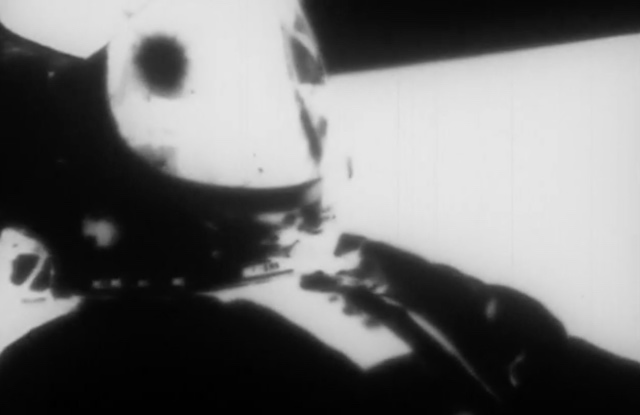 In Ex-Cinema, Akira Lippit writes of Flight that "Snider's photogrammatical work of mourning literalizes the forces of impression in the activity of recycling."
Made in 1997, Flight screened two years later on April 27, 1999 at the Robert Beck Memorial Cinema. Other screenings are unknown as of this writing.
The film begins with film leader text, followed by the title Flight that passes by in what looks similar to the "rayogram" imagery that follows for the majority of the film. The same technique is used on several words that appear individually at the end of the film:
Take
care
good
luck
Love
Dad