Flashback: 4th Annual Chicago Underground Film Festival: Full Lineup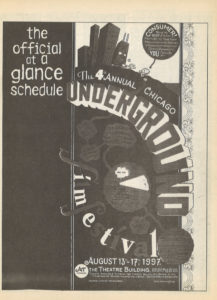 In 1997, the Chicago Underground Film Festival held its fourth annual edition on August 13-17 at the Theatre Building at 1225 W. Belmont Avenue. One way the festival promoted itself that year was it published a four-page pull-out section in the Chicago-based political magazine Lumpen, vol. 6 no. 4.
These pages included the entire festival schedule, which the Underground Film Journal has re-created below. In addition, scans of the original Lumpen pages appear at the bottom of this article. This program schedule did not include director names for the most part, but the Journal has included names that we could find through research.
In the Theatre Building, CUFF screened on two screens simultaneously. One theater screened films shot exclusively on film; while the other theater screened films shot exclusively on video. In addition, a Closing Night event of director John Waters' live performance piece "Shock Value" took place in the film theater and was simulcast into the video theater.
This edition of CUFF featured the work of several classic underground film names. In addition to several programs with John Waters, including the above-mentioned performance piece "Shock Value" and a conversation between Waters and actress Mink Stole, the festival screened Waters' classic feature Female Trouble.
CUFF also hosted a retrospective of the work of Jack Smith, who had passed away in 1989. All works were screened on film, including Smith's iconic Flaming Creatures, plus his other films No President, Normal Love, and I Was a Male Yvonne De Carlo.
The Closing Night feature was a new documentary by Beth B, Visiting Desire; and, on Friday, the festival screened Heavy Metal Parking Lot by Jeff Krulik and John Heyn, plus other videos by Krulik. On Saturday, Jack Sargeant screened two classic "Beat" movies — Pull My Daisy by Robert Frank and Alfred Leslie; and Peter Whitehead's Wholly Communion — in support of his then-new book Naked Lens. After the Beat screening, Sargeant signed copies of Naked Lens at Quimby's Bookstore along with comic book artist/writer Dame Darcy, who was starring in Lisa Hammer's (The Elaborate) Empire of Ache screening at the fest.
Other films that now stand out in the festival lineup include an edition of Jennifer Reeder's "White Trash Girl" series Law of Desire; George Kuchar's Vermin of the Vortex, Crimes of Fashion: The Return of El Frenetico and Go-Girl sequel directed by Pat Bishow, Jon Moritsugu's feature Fame Whore, Charles Pinion's short Madball, and Strange Babies From Planet B directed by the late animator Jon Schnepp.
Here is the full schedule:
August 13
7:00 p.m.: Love God, dir. Frank Grow. Starring Will Keenan. A schizophrenic man is released from a psychiatric hospital and stops taking his medication whereupon he is besieged by monsters and other lunatics.
August 14
5:30 p.m.: Sore Losers, dir. John Michael McCarthy. A space alien returns to Earth to redeem his reputation.
Screened with: Petula and Frankie, dir. unknown
6:00 p.m.: Flaming Creatures, dir. Jack Smith. Part of a Jack Smith retrospective.
7:15 p.m.: "Stack of Shorts"
The Erotic Adventures of Alex the Clown, dir. Keith Schofield
Five Hits, dir. unknown
Bible of Skin, dir. Mark Hejnar
Holy Matter, dir. Cindy Kleine
Vermin of the Vortex, dir. George Kuchar
7:45 p.m.: Running Time, dir. Josh Becker. An ex-con plans and takes part in a heist that goes spectacularly wrong. Filmed in one continuous take.
Screened with: Writer's Block, dir. unknown
9:00 p.m.: "Viva Les Girls!"
Law of Desire: Clit-O-Matic, Part 2, dir. Jennifer Reeder
(The Elaborate) Empire of Ache, dir. Lisa Hammer
Nowhere Fast, dir. Saskia Jell
Grace Has Mace, dir. Julianne Berg
Club Vivisextion, dir. Rob Thompson
9:30 p.m.: Weed, dir. unknown. A documentary about Australia's Cannabis Cup competition.
Screened with: MPG: Motion Picture Genocide, dir. Robert C. Banks
10:45 p.m.: Straight to You: Nick Cave: A Portrait, dir. Nanni Jacobson. This intimate portrait of rock star Nick Cave features rare studio and concert footage.
Screened with: True Blood, dir. Charles Gatewood
I Get Ideas, dir. unknown
Paradice, dir. unknown
11:00 p.m.: Half-Spirit: Voice of the Spider, dir. Henri Barges. A woman escapes captivity and starts hearing the voice of a spider in her head.
August 15
5:30 p.m.: The Electric Urn, dir. Dean Bivins. A young transvestite tries to get ahead in the acting world of New York City.
Screened with: Super Thrill Over Kill, dir. Eric Brummer
6:00 p.m.: No President, dir. Jack Smith. Part of a Jack Smith retrospective
I Was a Male Yvonne DeCarlo, dir. Jack Smith
7:15 p.m.: The Films of Jeff Krulik and Friends: Featuring Heavy Metal Parking Lot"
Screened: Heavy Metal Parking Lot
Neil Diamond Parking Lot
King of Porn
Mr. Blassie Goes to Washington
Ernest Borgnine on the Bus
7:15 p.m.: The Seller, dir. Craig Schlattman. A used car salesman kills an obnoxious married couple and drives their young daughter cross-country to go live with her aunt.
9:00 p.m.: "Seven Little Movies"
Cunt, dir. unknown
Electric Flesh, dir. Eric Brummer
Baked Alaska, dir. Huck Botko
City of Sleep, dir. Jon Filthé
Dyke Rat, dir. Tony Nittoli
Premenstrual Spotting, dir. Machiko Saito
Cutting Moments, dir. Douglas Buck
9:45 p.m.: "Shorts in a Bundle"
William Shatner Lent Me His Hairpiece: An Untrue Story, dir. Ken Hegan
Lil' Star Duster, dir. Psychelicious-N-Junkman
Kid New Year and Billboard, dir. unknown
The Principles of Karma, dir. Craig Wallace
A Conversation, dir. unknown
Bubble Quandary, dir. Joel Watson
10:45 p.m.: Subdue the Universe, dir. James Taylor. This documentary profiles fringe Presidential candidates, such as Hillary Michael Milk.
Screened with: You're Still Not Fooling Us, dir. Mike White
11:15 p.m.: Isle of Lesbos, dir. Jeff B. Harmon. A woman in a small town gets transported to a magical dimension where lesbians rule.
August 16
12:30 p.m.: "Video Snacks"
The Adventures of WaterBong, dir. Eric Rosner
Beyond Asiaphilia, dir. Valerie Soe
Crimes of Fashion: The Return of El Frenetico and Go-Girl, dir. Pat Bishow
The Confession, dir. unknown
1:00 p.m.: "Gang of Shorts"
Part 3: Steps, dir. Casey Suchan
A Full Cup, dir. Jodie Myers
The Whites, dir. Natasha Uppal
My Pretty Little Girlfriend, dir. Jennifer M. Gentile
Job, dir. unknown
Seaschell Beach, dir. Holly Hardman
2:00 p.m.: "Beat Movies" Presented by Jack Sargeant
Pull My Daisy, dir. Robert Frank and Alfred Leslie
Wholly Communion, dir. Peter Whitehead
2:30 p.m.: Two Small Bodies, dir. Beth B. A detective uses extreme interrogation techniques on a woman who may have killed her two children.
3:45 p.m.: "Shorts: Whipped Cream and Other Delights"
Beat the Meatles, dir. Keith Alcorn
Pleasure/Hurting, dir. John Burridge
The Second Cumming, dir. unknown
Wacka-Spewy, dir. Steven Clar
One-Man Show, dir. unknown
Date Rape, dir. unknown
Autumn in Vienna, dir. unknown
Splatter Film, dir. unknown
4:15 p.m.: Hang Your Dog in the Wind, dir. Brian Flemming. A couple friends from L.A. drive into the desert to find their missing friend.
Screened with: Candy Is Dandy, dir. unknown
5:30 p.m.: "Left-Hand Shorts"
Pump With a Chump, dir. Modi
Angels?, dir. unknown
The Bike, dir. Candance Corelli
The Strange Little Man Who Lives in My Father's Lab, dir. Joe Winston
Watch Me Jumpstart, dir. Banks Tarver
6:00 p.m.: The Rainbow Man/John 3:16, dir. Sam Green. This documentary profiles Rollen Stewart, a man who became famous for wearing a rainbow-colored wig at sporting events and eventually became born again.
Screened with: Paranoia, dir. Robert Edwards
The Marionette, dir. unknown
7:15 p.m.: Out of the Loop, dir. Scott Petersen. This documentary profiles Chicago indie rockers, such as The Jesus Lizard, Steve Albini, Triple Fast Action and more.
Screened with: An Incredible Simulation: The Trailer, dir. Jeff Economy & Darren Hacker
7:45 p.m.: Fame Whore, dir. Jon Moritsugu. Following the lives of oddball fame seekers.
Screened with: Madball, dir. Charles Pinion
9:00 p.m.: Driver 23, dir. Rolf Belgum. The documentary follows the travails of a rock band that has dreams of making it big.
Screened with: Rock & Roll Punk: The Trailer, dir. Jim Sikora
9:30 p.m.: "Fistful of Shorts"
Penisknifevaginawound, dir. Shade Rupe
Davey and Son of Goliath, dir. Corky Quakenbush
Bowl of Oatmeal, dir. Matthew Bezanis, Lawrence Gise, Leslie Hucko, Dietmar Post, David White, Hsia-Huey Wu
Meat, dir. Jason Hernandez-Rosenblatt
The Fetishist, dir. Jim Trainor
10:45 p.m.: The Bride of Frank, dir. Escalpo Don Bladé. A lunatic dates women and murders the ones who are mean to him.
August 17
12:30 p.m.: "Shorts: Five Wet Smiles"
Cartoons That Never Made It, dir. unknown
Wig Rodeo, dir. Marcel DeJure
Astroturf, dir. Ian Haig
The History of the Future, dir. Reynold Reynolds
Strange Babies From Planet B, dir. Jon Schnepp
Joey Noir, dir. unknown
1:00 p.m.: "Bag O' Shorts"
Lil' Estrella's Big Headache, dir. unknown
Season's Greetings, dir. Michael Dougherty
Gus Fist, dir. unknown
Seven Virtues, dir. unknown
aquamorpheous, dir. Brien Burroughs
Un Ange Passe, dir. unknown
The Baby Haters, dir. Laurie Pike
2:00 p.m.: "Shorts: A Mixed Six"
One's Man Life, dir. unknown
Suicide, dir. unknown
Exodus 12:21-30, dir. unknown
Let the Punishment Fit the Child, dir. Maria Beatty, Margie Schnibbe
Drive to Work, dir. Tyler Hubby
Aquatorious, dir. Kota Ezawa
2:30 p.m.: Female Trouble, dir. John Waters. A juvenile delinquent runs away from home, becomes a single mom and is transformed into a criminal superstar by a married pair of psychopaths.
3:45 p.m.: "John Waters & Mink Stole: The Making of Pink Flamingos" The director and one of the stars of the legendary cult classic discuss the film.
Also shown: Love Letter to Edie, dir. Robert Maier
4:15 p.m.: Normal Love, dir. Jack Smith. Part of the Jack Smith Retrospective.
6:00 p.m.: "Shock Value: An Evening With John Waters" A performance piece by the legendary cult director.
8:00 p.m.: Visiting Desire, dir. Beth B. This documentary follows five individuals who act out their sexual fantasies. Starring Lydia Lunch and Kembra Pfahler.
Here are the program scans from Lumpen: