Flashback: 3rd Annual New York Film Festival Downtown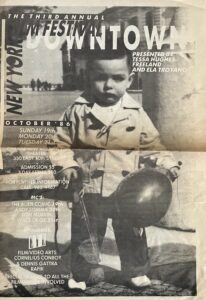 The third annual New York Film Festival Downtown was once again organized and presented by filmmakers Tessa Hughes-Freeland and Ela Troyano in 1986.
In the festival's program notes, the pair continued to bemoan the lack of attention given to Lower East Side filmmakers in their own city:
Three years later the situation remains virtually unchanged … Most of the filmmakers included in this year's program have over the past year had numerous screenings in West Germany, Australia, Switzerland, Italy and Canada, as well as in various cities in the U.S. In sharp contrast is New York City itself: there are fewer clubs or alternative venues open for screenings on a consistent basis … nor reviews covering these infrequent though well-attended shows.
The festival included both short films and expanded cinema performances, including slide shows, multi-image projections; and a film performance that involved "pencils, balloons, electric machines and hammers". (That was Dragan Ilic's Cluster #1 on the first night.)
Some of the more well-known underground filmmakers who screened work at the festival were Peggy Ahwesh, Nick Zedd, Richard Kern, Cassandra Stark, Manuel De Landa, and — of course — Hughes-Freeland and Troyano.
You can read a little bit more about the festival at the Underground Film Journal's article about the 2nd annual edition of the festival.
Below is the full lineup of the festival; and below that are some images from the poster-sized program guide.
OCTOBER 19
8:00 p.m.
3D slides, dir. M. Henry Jones
Parade, dir. Joey Ahlbum
C'est La Guerre, dir. Karen Mandelbaum
Alive With Pleasure, dir. Anthony Chase and the Avenue A Ladies Auxiliary
Demeter and Persephone, dir. Leslie Lowe
9:00 p.m.
Witness Chamber, dir. Ruby Ray
8D, dir. Nile Southern. Music by Phoebe Legere.
White Rabbit, dir. Andy Soma
Monsieur Albet's Kaleidoscope Eroticon, dir. Stephen Holman
Black Goddess, dir. Ellen Fisher. Shot by Tom Palazzolo.
In a Storm Even Dinosaurs Trip, dir. Penelope Wehrli. With Laurie Perricci, Guto Pereira, Plauto, Uri Katzenstein.
10:00 p.m.
Cluster #1, dir. Dragan Ilic
If We Don't Stop Now, dir. Kaja Gam
Heartburn, dir. Dancenoise
La Belle Fleur, dir. Carl George
11:00 p.m.
Untitled, dir. David West
Short films, dir. Stuart Sherman
Disposable, dir. Penelope Buitenhuis
Bananafish, dir. Sue Graef. Starring Kai Eric and Patty Van Tassel.
Brains By Revlon, dir. Jack Waters
OCTOBER 20
8:00 p.m.
Corrective Measures; Politically Speaking, dir. Peter Cramer
Titere, dir. Ileana Montalvo
Bath House, dir. Ira Abromowitz
I Ride a Pony Named Flame, dir. Peggy Ahwesh. With Margie Strosser.
Presentation by Julius Klein
A Suicide, dir. Richard Klemann. Starring Andrew McCormick.
Vampire Terror Party, dir. David Wicked
9:00 p.m.
Memorias De La Revolucion, dir. Carmelita Tropicana
The Black Monster, dir. Lung Leg
Bad Blood For The Vampyr, dir. Lis-san Tibodo. Starring Olsiver M. Schutz, Blixa Barged, Maria Zastrow, Dorean Grey, Mata D'Or. Music by Einsturzende Neubauten, The Golden Vampires, Die Artze.
Coney Island, dir. Max Henry
10:00 p.m.
Parental Guidance Suggested, dir. Amy Turner and Tommy Turner
You Killed Me First, dir. Richard Kern
Submit To Me, dir. Richard Kern
Go To Hell, dir. Nick Zedd. Co-director David Rutsala.
Kiss Me Goodbye, dir. Nick Zedd
Human Waste, dir. Mark Zero
11:00 p.m.
The Deal, dir. Mad Max
Pus, dir. John Spencer. Music by Pussy Galore
OCTOBER 21
8:00 p.m.
a place to beware, dir. David Schmidlapp
Mild Seven: The Cowboy Stories, dir. Kembra Pfahler
Good Luvin' Guitarman, dir. Direct Art Ltd.
Heterosexual Lsove, dir. Direct Art Ltd.
The Wages of Sin, dir. David Rutsala
Devil's in the Dish, dir. Jo Andres
Girls Can't Help It, dir. Uzi Parnes. Starring Consuelita, Jeep Reese, and Randy Roma.
Police Sexuality, dir. Manuel De Landa
Black Cat Tea, dir. Marzy Quazar. Starring Mosnte Cazzaza.
10:00 p.m.
Pure War (part two of Amor Amorte), dir. Erotic Psyche
Where Evil Dwells, dir. Tommy Turner and David Wojnarowicz. (Excerpts). Starring Scott Werner, Baby Gregor, Gnatz, Richard Klemann, Joe Coleman, and Rockets Redglare. Title track by Wiseblood.
Rat Trap, dir. Tessa Hughes-Freeland and Tommy Turner
Wrecked on Cannibal Island, dir. Cassandra Stark
11:00 p.m.
Dumb Blond, dir. Ela Troyano
Stone Age Lament, dir. Tony Caplan. Starring Nick Zedd.
Tatoo Suite, dir. R.S. Wolkstein
12:00 a.m.
Fantasmagoria, dir. Richard Bruce Byron