Flashback: 2nd Annual New York Underground Film Festival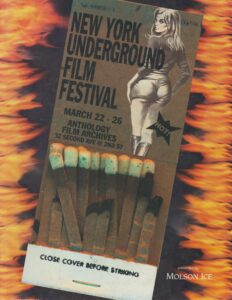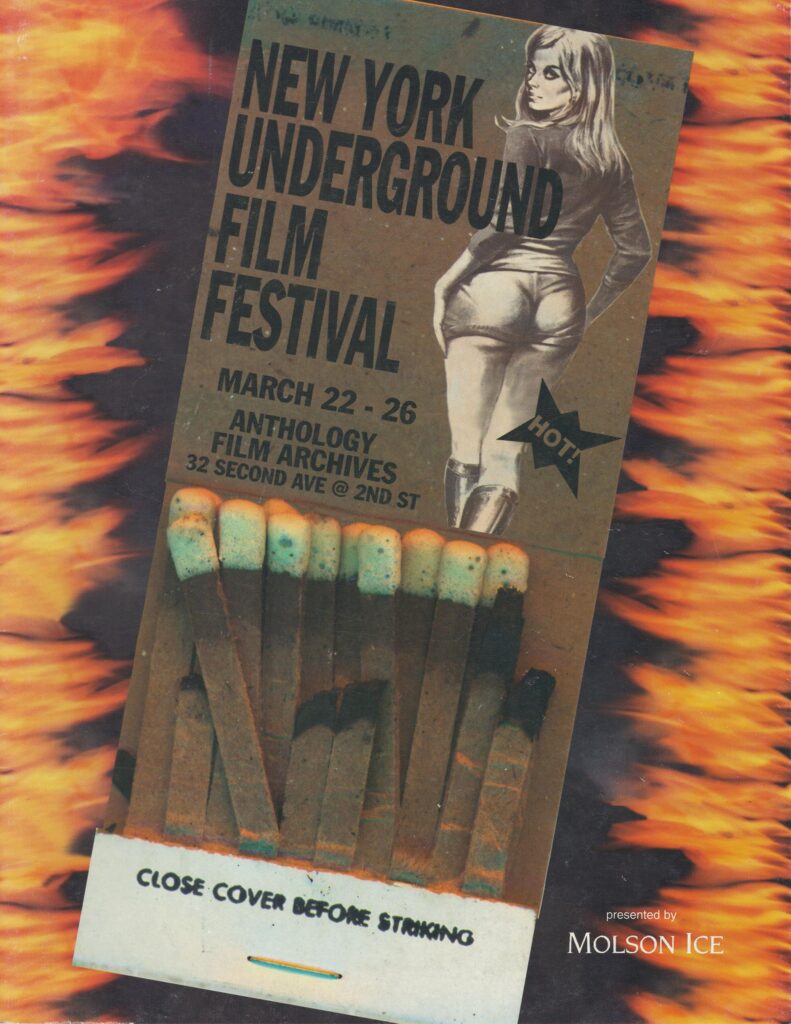 Ed Halter has graciously donated to the Underground Film Archive the program books for almost every edition of the New York Underground Film Festival.
While this donation does not include the still-elusive program for the first edition of the fest in 1994, it does begin with the 2nd edition held in 1995 at the Anthology Film Archives on March 22-26. This was the first year that Halter worked at the festival, as a volunteer, before he would take over and run the whole thing a few years later.
NYUFF was founded by Todd Phillips and Andrew Gurland. In the 1995 program book, Philips is listed as Festival Director; and Gurland as Executive Programmer. The fest's advisory board includes several significant underground filmmakers, such as Beth B., Richard Kern, and John Waters.
Waters was honored at the festival with a retrospective of four of his highly influential films: Pink Flamingos, Female Trouble, Desperate Living, and Multiple Maniacs.
The full lineup of the festival is listed below, and it represents an interesting intersection of the "old guard" of the underground film scene with several fresh names bursting onto the scene.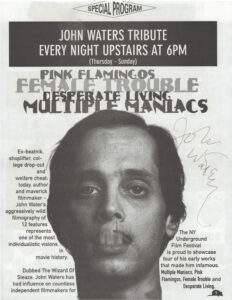 The opening night film was the fourth feature by Jon Moritsugu: Mod Fuck Explosion. Moritsugu had been affiliated with Nick Zedd's Cinema of Transgression as a member of a "second wave" of the movement since he was not mentioned in Zedd's original manifesto published in 1984. (Moritsugu's first short film, Braindead, wouldn't come until 1987.)
The closing night film was Half-Cocked by Suki Hawley and Michael Galinsky. While this first feature was a fiction film, Hawley and Galinsky would become a staple at NYUFF screenings and beyond with acclaimed documentaries such as Horns and Halos and All The Rage (Saved By Sarno). You can read a review of the DVD release of Half-Cocked here.
While the festival screened a good amount of features in addition to the Waters' retrospective, it was really packed to the gills with a ton of short films.
Tessa Hughes-Freeland is a filmmaker who, like Moritsugu, was also affiliated with the Cinema of Transgression, but more significantly co-founded and co-ran the New York Film Festival Downtown for several years in the 1980s, which can be seen as a good precursor to NYUFF. She had two films in this edition of NYUFF, Dirty and Playboy Voodoo.
Two other women filmmakers at this NYUFF would become icons of the scene. Peggy Ahwesh's Color of Love would become a beloved classic; while Greta Snider screened an early work of hers, Shred of Sex.
A few other significant names screened some of their early work. One being Skizz Cyzyk (4 Films in 5 Minutes), who would found and run his own long-running underground film festival, the MicroCineFest in Baltimore. Daniel Martinico (The Safeway) has had a prolific filmmaking career, including experimental features such as Ok, Good. And Mike White (Who Do You Think You're Fooling) published the long-running cult movie zine Cashiers Du Cinemart.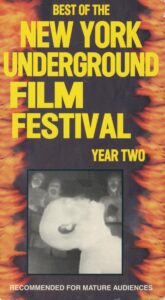 Last thing to note is that, like with the first edition of NYUFF, Phillips and Gurland released a VHS compilation tape of select short films, including Cyzyk's 4 Films in 5 Minutes, Jacob Pander's The Operation, Franz Berner's Dienstag, Jay Beckman's Brouhaha, David Baer's Shave Against the Machine, and more.
Below is the full lineup of the festival, which includes many other interesting films and filmmakers of note than have been pointed out above. Then, below that are scans from the program.
March 22
7:00 p.m.: Mod Fuck Explosion, dir. Jon Moritsugu
Followed by a kick-off party at Coney Island High featuring a performance by Helmet
March 23
6:00 p.m.: Plutonium Circus, dir. George Ratliff
6:00 p.m.: Multiple Maniacs, dir. John Waters
7:45 p.m.: Who Do You Think You're Fooling, dir. Mike White (WATCH ONLINE)
The Formative Years, dir. Bump
Number One Local: Harry Nugent, dir. (unlisted)
Beat: 2 Pieces, dir. (unlisted)
Raging Boil, dir. Judd Metni
7:45 p.m.: Invisible World, dir. Stacey Richter and Anna Lee Keefer
Jason, dir. David S. McFarland
Dirty Birdy, dir. John Dillworth
Groove, dir. Josh Apter
9:30 p.m.: The Straight Agenda, dir. John Binninger and Jaqueline Turnure
Oat-Meal, dir. Relah Eckstein
Images, dir. Jeff Vilencia
Take a Trip With Jeff, dir. Lance Weiler
Love Stories My Grandmother Tells, dir. Dana Plays
9:30 p.m.: Fallen Angel, dir. Jason Jay Crabtree
Caribbean, dir. Victor Masnyj
Hubcap World, dir. L.K. Noeller
11:45 p.m.: Shave Against the Machine, dir. David Baer
Treacherous Planet, dir. David Mumford
Andre the Giant Has a Posse, dir. Helen Stickler
I Don't Want To Be a Boy, dir. Alec Behrens and Marijn Muijser
11:45 p.m.: What About Me, dir. Rachel Amodeo
March 24
6:00 p.m.: Monkey Wrench, dir. L. Banks Tarver
Eyes of a Blue Dog, dir. Lorenzo Shapiro
To a Random, dir. Michael Burlingame
6:00 p.m.: Female Trouble, dir. John Waters (STREAMING ONLINE)
7:45 p.m.: Bad Day at Bobs Bank, dir. Tibor Szakaly
Wormfood, dir. Denis Paul Juge Jr.
Cut, dir. Tom Burka
7:45 p.m.: Dienstag {Once Upon a Tuesday}, dir. Franz Berner
Craps, dir. Rick Rodine
Brouhaha, dir. Jay Beckman
Mother Sky, dir. Craig Smith
Evil Town, dir. Evil Town
9:30 p.m.: Bloodbath, dir. Charles Gatewood
A Boy and His Log, dir. Gareth Lawson and Rob Arber
Death Sled II: Steel Belted Romeos, dir. Danny Plotnick
Smush, dir. Jeff Vilencia
Crosley Fiver, dir. Guy Benoit
Speed Racer: Welcome to the World of Vic Chestnutt, dir. Peter Sillen
9:30 p.m.: Highway of Heartache, dir. Gregory Wild
11:15 p.m.: Transgression, dir. Michael P. DiPaolo
11:15 p.m.: Wildgirls Go-Go Rama, dir. Addison Cook
Shred of Sex, dir. Greta Snider
Color of Love, dir. Peggy Ahwesh
Playboy Voodoo, dir. Tessa Hughes-Freeland
March 25
4:00 p.m.: Shatter Dead, dir. Scooter McCrae
6:00 p.m.: The Pope of Utah, dir. Chaim Bianco and Steven Saylor
6:00 p.m.: Pink Flamingos, dir. John Waters
7:45 p.m.: Dirty Money, dir. James Bruce
7:45 p.m.: The Road Taken, dir. Clayton Ellis
4 Films in 5 Minutes, dir. Skizz P. Cyzyk
Lick of Fury, dir. Matthew Sidle
Krazy Teens USA, dir. Jeffrey Sommerville
Critizen, dir. Michael LaHale
9:30 p.m.: We Are Not Who You Think We Are, dir. Robin Smith
Flashback, dir. Clement Lachance
Untitled, dir. Cyan Meeks
Corazon Mundial, dir. Muire Dougherty
The Deflowering, dir. Alyce Wittenstein
9:30 p.m.: Memoirs of a Madman, dir. George and Mike Baluzy
11:15 p.m.: The Operation, dir. Jacob Pander
A Lot of Fun For The Evil One, dir. M.M. Serra and Maria Bealty
The Mulberry Bush, dir. Arlene Sandler
Extreme Unction, dir. David Aaron Clark and Ivan Lerner
Our Us We Bone One So Naked Known, dir. Anie Stanley
From Beijing to Brooklyn, dir. Arlene Sandler and Anie Stanley
11:15 p.m.: I Am a Sex Addict, dir. Vikram Jayanti
March 26
4:00 p.m.: Cycle Slut Christmas, dir. Super 8 Union
Pipsqueak Pfollies, dir. Danny Plotnick
4:00 p.m.: Date, dir. Super 8 Union
A Breakdown After the Mental Institution, dir. Anne C. Robertson
Warzone, dir. Maggie Hadleigh-West
6:00 p.m.: Nothing, dir. Evan Aaronson
6:00 p.m.: Desperate Living, dir. John Waters
7:45 p.m.: The Safeway, dir. Daniel Martinico
20 Pieces of Time, dir. Mark Zero
My Daddy & Animal Daddies, dir. Mark Taylor
800 Flowers, dir. Ben Boodman
The True History of Crime: X Equals X, dir. Michael Garoh and Rodney Ascher
Wishful Thinkers, dir. Donal Tavey
7:45 p.m.: Cracking Up, dir. Matt Miller
9:30 p.m.: State of the Union, dir. Robert Attansio
Warm Leatherette, dir. Clement Lachance
Dirty, dir. Tessa Hughes-Freeland
The Spy (Hester Reeve Does the Doors), dir. Suzie Silver
Huncke, dir. Christian Bruckner
9:30 p.m.: Half-Cocked, dir. Suki Hawley (READ THE REVIEW)