Flashback: 2nd Annual New York Film Festival Downtown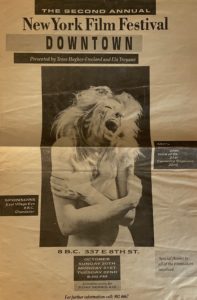 Filmmakers Tessa-Hughes Freeland and Ela Troyano founded the New York Film Festival Downtown in 1984. In the program for the second annual edition in 1985, they laid out the need for such an event:
"Most films made in this society fall into two categories: those financed and marketed commercially, and their counterparts in the arts and academic worlds. Most people are entirely unaware of filmmaking occurring outside these structures.

[…]

This hasn't stoped filmmakers in downtown New York from producing films without the help — and interference — of market and art-funding forces."
NYC's Lower East Side has been a fluctuating hotbed of avant-garde filmmaking since the early to mid 1950s. In the sixties, this became a full-on explosion of underground filmmaking that felt like it had a shot at garnering acceptance on a national, and even international, level.
After the movement's brief moment in the sixties' sunlight, it largely retreated into academia until the rise of the punk-fueled No Wave Cinema in the late 1970s. Films and other no-budget media performances were being presented in an unorganized way in music clubs, art galleries, and other unorthodox screening spaces around NYC. Thus, Freeland and Troyano founded the Downtown festival to bring a cohesion and, hopefully, some much needed attention to their scene.
The lineup of the second Downtown festival features a heavy punk aesthetic of films and media performances challenging cultural norms. The festival ran on October 20-22, which was just a month after Nick Zedd first published his Cinema of Transgression manifesto in his photocopied zine, the Underground Film Bulletin.
In the description of Zedd's film Thrust in Me that screened at the festival, it says:
"This film perfectly embodies all the esthetic imperatives manifested by the Cinema of Transgression, the secret underground movement which is currently on everyone's lips."
Indeed, the festival was filled with many of the filmmakers associated with Transgression; such as Zedd, Richard Kern, Manuel De Landa, and, of course Freeland and Troyano. However, other than that brief mention, there's also only one reference to "underground cinema" in the program's opening editorial.
So, there's no real sense that Freeland or Troyano were trying to impose any kind of connection to the festival's selections other than just to simply present an accurate representation of who was currently working in the LES at the time.
Some highlights of the festival were:
Jacob Burckhardt's feature It Don't Pay To Be An Honest Citizen, starring countercultural figures William Burroughs and Allen Ginsberg; Manuel De Landa's grafitti documentation Ism-Ism; Freeland's own Rhonda Goes to Hollywood; and James Nares's popular Super-8 epic Rome '78 that concluded the festival.
The full lineup of the second annual New York Film Festival Downtown is below, followed by images from the program acquired by the Underground Film Journal:
OCTOBER 20
8:00 p.m.: "Slide Performance", performed by Stephen Holman & Torture Chorus
The Ballad of Sexual Dependency, multimedia performance by Nan Goldin
9:00 p.m.: Pyrotechnics, performed by Bradley Eros & Aline Mare (Erotic Psyche)
"Film / dance Performance" by Jo Andres
10:00 p.m.: The Outsiders, dir. Dan Ochiva
Fall in a Faint, dir. Sokhi Wagner
Last Nights, dir. Sandy Tate; co-dir. Gretchen Bender
11:00 p.m.: Spectre Woman — On the Road, dir. Ellen Fisher, Mary Schulz, Tone Blevins, John Van Wagner
Work at Nine, dir. Julius Klein
You Touch You Buy, dir. Julius Klein
Frankie Teardrop, dir. Edit De Ak & Walter Robinson
Spills & Thrills, dir. Sur Rodney Sur
12:00 a.m.: The Agent, dir. Mary Bellis
OCTOBER 21
8:00 p..m.: A La Vueltecita, dir. Ileana Maria Montalvo, with slides by David Schmidlapp
The Day Koch Gets Electrocuted, dir. David Schmidlapp
Dead on My Arm, dir. Cassandra Stark
Untitled, dir. Lung Leg
9:00 p.m.: Slight Show, dir. Christof Kohlhofer
Simonland, dir. Tommy Turner
Live Ammo, dir. Terry Stacey
Chett Grant: A Portrait of the Man, dir. Directart Ltd. Productions
10:00 p.m.: Thrust in Me, dir. Nick Zedd
Submit to Me or From Sex to Death (film in progress), dir. Richard Kern
Richard Kern performance with Brian Moran
Manhattan Love Suicides, dir. Richard Kern
11:00 p.m.: Tender H.B.I., dir. Dragan Ilic (film of performance Bloody Nights by Dumas)
12:00 a.m.: It Don't Pay To Be An Honest Citizen, dir. Jacob Burckhardt
OCTOBER 22
8:00 p.m.: Pompeii New York, Part I, dir. Ivan Galietti
Asparagus, dir. Suzan Pitt
"Excerpts from Apple, Heart, Daisy film", M. Henry Jonas and Susan Tremplay
How About Me, dir. Bobby G
9:00 p.m.: Ism-Ism, dir. Manuel de Landa (Watch now)
Cyanide Time, dir. David West
White Rabbit, dir. Andy Soma
10:00 p.m.: MasterRay, slide performance by Ruby Ray
Loisada Lusts, dir. Uzi Parnes & Ela Troyano
Stars and Stripes (slide show)
11:00 p.m.: Revenge of the Dearest, dir. Anthony Chase
Rhonda Goes To Hollywood, dir. Tessa Hughes-Freeland
Mime 2 Mind, dir. Arleen Schloss
Voyage to the Wall, dir. Johan Donner & Ulf Nilsson
12:00 a.m.: Presentation of Awards
Rome '78, dir. James Nares