Flashback: 1994 New York Underground Film Festival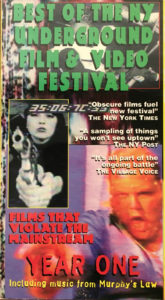 In 1993, after not being accepted into any major film festival of the time, such as Sundance, filmmaker Todd Phillips personally toured the U.S. and Europe with his first documentary film, Hated: GG Allin & The Murder Junkies. Following this experience, Phillips partnered up with fellow filmmaker Andrew Gurland to launch several initiatives to help small, challenging and often controversial films connect with audiences.
One of those initiatives was the first ever New York Underground Film and Video Festival, which was held at the Anthology Film Archives in New York City on March 18-20, 1994.
The term "underground film" was first used to describe the experimental film scene in 1961 by filmmaker and film theorist Stan Vanderbeek. Using "underground film" to describe the avant-garde cinema remained popular throughout the '60s, then lost popularity in the '70s as terms like "structural film" came into existence. "Underground film" ultimately regained some of its mojo in 1984 when Nick Zedd began publishing the Underground Film Bulletin to help promote his Cinema of Transgression.
Phillips produced his documentary Hated while he was a film student at NYU in downtown Manhattan, but there's little evidence that he and Gurland were influenced by the nearby grungy Lower East Side film scenes of No Wave and the Cinema of Transgression to launch a festival of "underground film." There's very little public record of the majority of films shown at the festival, but of the films that were publicly discussed, they were not at all by the filmmakers who had been active in the previous few decades in the LES.
Seemingly having learned through the Hated experience that it was beneficial to showcase films with "shocking" non-mainstream subject matter, the film most closely associated and discussed with the first NYUFAVF is the documentary Chicken Hawk: Men Who Love Boys by Adi Sideman, a film that went out of it's way to profile members of the National Man/Boy Love Association in a non-judgemental manner.
The first NYUFAVF was not the only film festival to screen Chicken Hawk in 1994, but it is the one that tried to get the most mileage out of it. One of the ways Phillips and Gurland attempted to drum up interest in their upcoming festival was to hold a press conference about Chicken Hawk on the Howard Stern radio show. The event featured NAMBLA's Leyland Stevenson — who appeared in the documentary — and anti-NAMBLA activist Thomas F. McDonough being peppered with rude questions from Stern sidekick Stuttering John.
Contrasting with the outrageousness of that event, in an article in the March 13, 1994 New York Times, Gurland played down the screening of Chicken Hawk by describing it simply as a "very traditional documentary" with an "unusual" subject matter.
In that Times article, Phillips and Gurland's primary objective seems to be positioning themselves as an alternative to the staid "uptown" New Directors/New Films festival. (It's not known if ND/NF had rejected Hated the previous year, but it's possible.) Even declaring itself as both a "Film" and a "Video" festival was radical at the time as the projection of video — especially lo-res video — in a theatrical setting was not exactly commonplace nor celebrated in 1994.
As stated above, there is very little public record of what exactly screened at the first NYUFAVF. The festival didn't launch a promotional website until their 3rd annual edition in 1996. Articles such as in the Times only wrote about a smattering of the nearly 50 films that screened over three nights in 1994; and some contemporaneous listings that can be found online only provide the same.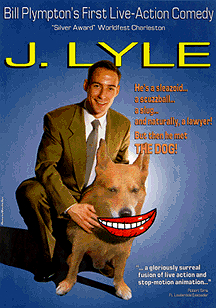 While Chicken Hawk was clearly the main film the festival was trying to promote to attract audiences, the Times article indicates that it was not what was considered the "Opening Night" film. That honor went to J. Lyle, the first live-action film directed by cult animator Bill Plympton. J. Lyle is the fictional story of an asshole lawyer who befriends a talking dog. Chicken Hawk must have screened prior to or after J. Lyle.
On March 19, the festival screened Gift, a feature-length film co-directed by Casey Niccoli and Jane's Addiction frontman Perry Farrell; that was paired with At Ground Zero, directed by Craig Schlattman. Later that night, the festival screened a midnight double-feature by American mid-west shockmeister Jim Van Bebber: My Sweet Satan and Deadbeat at Dawn.
According to a review of the festival written in Filmmmaker Magazine's Summer 1994 issue, the fest closed with the event "Reeltude," a selection of films by African-American filmmakers that was sponsored by Shade magazine. "Reeltude" included the feature-length film Fear of a Black Hat by Rusty Cundieff, which had screened at the 1993 Sundance Film Festival and still hadn't been released theatrically a year later. The film would get a mainstream release in June 1994.
The rest of "Reeltude" was comprised of short films. Filmmaker positively reviewed the films The Gaming Table by Robert Patton-Spruill and Once Upon a Time by Kwanne Kwei Armah; while another film in "Reeltude" was Robert Banks Jr.'s X: The Baby Cinema, a critique on Spike Lee's marketing of Malcolm X.
Another way we can piece together some of the other short films that screened throughout the rest of the festival is to take a look at Phillips and Gurland's post-festival endeavors. The key here is that Phillips and Gurland were not just holding a festival, but that they were attempting to create an alternative cinematic economy.
At the same time as the festival, Phillips and Gurland launched Stranger Than Fiction Films, a distribution company. Of course, the first film they distributed was Chicken Hawk, which they released theatrically paired with an old educational film called Red Light, Green Light that advised children on how to avoid molesters.
But Stranger Than Fiction Films also distributed collections of short films screened at the festival. First, there was a theatrical touring program that is believed to have existed on 16mm. This program was called Best of the New York Underground, which caused some confusion among non-NYC reviewers since the touring title didn't make explicit that the films were from a festival, and not from New York-based filmmakers. Reviewer Marc Savlov in the Austin Chronicle wondered why Transgressive-era filmmakers like Richard Kern weren't included; while Chicago's Jonathan Rosenbaum was dismayed that these films were representing New York at all.
Based on these reviews of the touring program, we can conclude the following six short films screened at the festival in March:
Spring Break, dir. Frank Sebastiano
Faerie Film, dir. Eugene Salandra
Detritus, dir. Peter Sarkisian
Doper, dir. Mike King
Pleasant Hill, USA, dir. Josh Wintringham
Queen Mercy, dir. Helen Stickler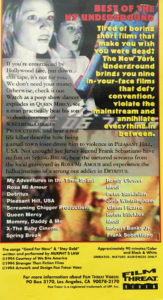 In addition to the theatrical touring program, Stranger Than Fiction Films teamed up with Film Threat Video to release a VHS collection titled "Best of the NY Underground Film & Video Festival." The VHS release included some of the films in the touring program; as well as some others. The tape includes these films:
My Adventures in the Time Spiral, dir. Randy Clower
Rosa Mi Amour, dir. Modi
Detritus, dir. Peter Sarkisian
Pleasant Hill, USA, dir. Josh Wintringham
Screaming Chigger Productions, dir. Glenn Ficarra
Queen Mercy, dir. Helen Stickler
Mommy, Daddy & Me, dir. Modi
X: The Baby Cinema, dir. Robert Banks Jr.
Spring Break, dir. Frank Sebastiano
The only other short film we know about that wasn't included in either "Best of" collection is Paper Dolls, referenced in the Times article and the director of which is unknown.
Filmmaker Magazine also listed the festival's award winners:
Grand Prize
Pleasant Hill, USA, dir. Josh Wintringham
Best Animation
Faerie Film, dir. Eugene Salandra
Best Experimental Film
Rosa Mi Amour, dir. Modi
Best Documentary
Chicken Hawk: Men Who Love Boys, dir. Adi Sideman
Best Narrative
My Sweet Satan, dir. Jim Van Bebber
Phillips and Gurland would go on to be involved with three more editions of the festival before moving onto other projects, primarily in the mainstream that the festival was supposedly at war with. Phillips would go on to produce and direct The Hangover trilogy among other comedy films; while Gurland would write the horror script The Last Exorcism and create the TV comedy Married.
However, their initial aggressiveness and promotion of the "underground" would explode way beyond their involvement, so their contribution cannot be understated despite the opposite trajectory their personal careers would go. The NYUFAVF would eventually shorten it's name to just the New York Underground Film Festival and last for 15 years total before coming to an end in 2008. The Chicago Underground Film Festival, which launched later in 1994, still continues to this day; as do a whole host of other "underground film festivals." Also, the Underground Film Journal most likely wouldn't be named thusly without the NYUFAVF.
Below is the schedule of the festival that the Underground Film Journal can most accurately piece together as of this writing:
March 18
8:00 p.m.: J. Lyle, dir. Bill Plympton
Time unknown: Chicken Hawk: Men Who Love Boys, dir. Adi Sideman
March 19
8:00 p.m.: "An Evening of Films About Illegal Drugs"
The Gift, dir. Perry Farrell
At Ground Zero, dir. Craig Schlattman
12:00 a.m.: My Sweet Satan, dir. Jim Van Bebber
Deadbeat at Dawn, dir. Jim Van Bebber
March 20
Times unknown:
Shade Magazine presents "New Voices in Black Cinema"
"Best of the Fest"