Five Sundance Film Festival Films To Air Simultaneously On VOD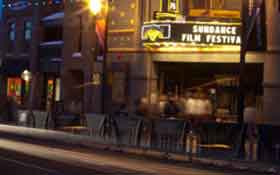 Five indie films screening at the 2011 Sundance Film Festival, which is set to run Jan. 20-30, will air simultaneously on Video-on-Demand systems all over the country, courtesy of Sundance Selects, the theatrical and VOD distributor.
The films that will be playing on VOD are: Brendan Fletcher's Mad Bastards, Michael Tully's Septien, Paul Mariano and Kurt Norton's These Amazing Shadows, Joe Swanberg's Uncle Kent and Gregg Araki's Kaboom. The first four films in that list are World Premieres while Kaboom is the film's U.S. premiere.
Uncle Kent is Swanberg's first film in Sundance, although this isn't his first experience with a film of his playing on a movie screen and on TV simultaneously. Back in 2007, his film Hannah Takes the Stairs had a limited theatrical release while also playing on demand courtesy of IFC. Interestingly, both IFC and Sundance Selects are owned by the same media conglomerate, Rainbow Media Holdings, a subsidiary of the cable giant Cablevision.
Sundance Selects is promoting Uncle Kent as Swanberg's "most mature film," although the movie does travel in the same territory as his second film, LOL. Both films are low-key comedy-dramas that deal with issues of loneliness and desire in our modern age of technology. Back in 2006, LOL was the closing night film of the Chicago Underground Film Festival. Uncle Kent will debut on VOD on Jan. 21.
As for the other films, Mad Bastards is an Australian movie about a crazed father traveling across Australia's Kimberly region to reconnect with his estranged teenage son. It will debut on VOD on Jan. 24.
These Amazing Shadows is the lone documentary in the bunch, which explores the mission and practices of the National Film Registry as it seeks to preserve the U.S.'s most culturally significant films. The film also features interviews with a diverse group of filmmakers, from John Waters to Christopher Nolan. It will debut on VOD on Jan. 22.
Septien is a backwoods tale about an estranged son returning to the family farm after mysteriously disappearing many years earlier. Michael Tully not only directed the film, but wrote the script and stars in the lead role. It will debut on VOD on Jan. 23.
Gregg Araki is no stranger to Sundance. He's had eight films screen there over the years. Kaboom is described as a Gen-X Twin Peaks about an ambisexual college student who investigates a "monstrous conspiracy in a seemingly idyllic Southern California seaside town." It will debut on VOD on Jan. 21. The film will also begin a limited theatrical release later in the month.
Sundance Selects is carried by most major cable systems, including Bright House, Comcast, Cablevision, Cox, and Time Warner Cable.