First Look: Scars Of Youth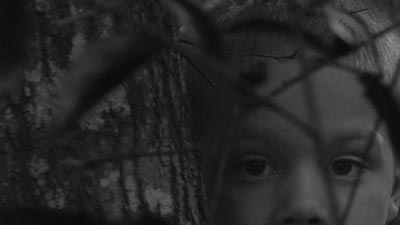 Director John R. Hand wrote me recently to say he's hard at work on his second feature film, Scars of Youth. John's first feature was the awesome experimental horror film Frankensteins Bloody Nightmare, which I rave reviewed here and which is available on a highly recommended DVD. The info on the film John sent was pretty slim, but it doesn't matter. I'm thoroughly jazzed to see it already. I'm interested in anything this guy's doing.
Here's the official Scars of Youth synopsis:
In a post-apocalyptic world 200 years from now, a young man living alone in the woods struggles to come to terms with his bleak landscape while trying to save his mother from a strange, deathless existence.
Well, sounds as whacked out as his first film. In addition to the synopsis, John sent me a passel of production stills, some of which I'm posting below. They're beautiful images, but a few of them are NSFW, so be careful. And if you go to John's blog, he has a ton more images and some brief production notes to let everybody know how he's doing. Looks like Scars of Youth is shaping up to be a really interesting project: