First Look: Rebecca Conroy's Sahaja Springs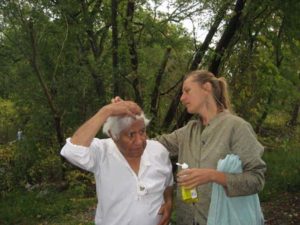 Rebecca Conroy, one of the Underground Film Journal's favorite short form filmmakers, is hard at work on her new project, the comedy Sahaja Springs. The proof? A new image gallery of set photos. That's her above prepping star Kumar Pallana for a scene, but the full Gallery is below.
If Pallana looks familiar that's because he stole the entire movie The Royal Tenenbaums right out from stars Luke and Owen Wilson, Ben Stiller and Gwyneth Paltrow where he played Gene Hackman's irascible manservent Pagoda. Pallana has actually appeared in all of director Wes Anderson's films, which has given him a second wind in the entertainment biz a cult film actor. Previously, he was a TV performer back in the '50s who appeared on shows such as the Mickey Mouse Club, Captain Kangaroo and You Asked for It.
Here's Conroy's official description of the film:
Sahaja Springs is a short fictional comedy about two fake gurus running what can be loosely called a "yoga ashram" in Upstate New York. Really, they are bizarre, sloppy petty thieves trying to evade the law. It is written and directed by Rebecca Conroy, and stars Indian actor Kumar Pallana (of Wes Anderson fame and early Rat Pack performances long ago). The Director of Photography is Jonathan Stevens. The film will be edited and ready for viewing this Spring, 2009.
Interestingly enough, Pallana was running a yoga and fitness center and coffee shop in Dallas where he met Anderson who cast him in Bottle Rocket. I would assume that was a legitimate business, though… (har har)
As a fan of both Conroy's and Pallana's I think the film looks great. Click images below to embiggen: