First Look: Profane
No stranger to disturbing imagery, transgressive filmmaker Usama Alshaibi is currently directing what may be his most controversial film to date: Profane. The above embedded video is a sneak peek of the project in the form of what we in the biz would call a "teaser" trailer.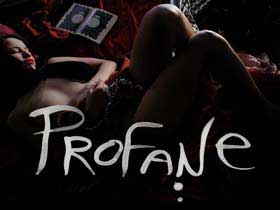 The clip begins with the exorcism of a young Muslim woman to rid her body of her Jinn, which is her "inner spirit made of smokeless fire." Or, at least that's my impression of the clip based on the limited info I have. Alshaibi is keeping much of the project under wraps, but with this clip my interest is way, way piqued.
But if you're intrigued as much as I am, you can keep up with the film via several online sources. (In addition to the Underground Film Journal, of course!) There's Alshaibi's NSFW blog and the official film website.
Also, for those who want even more Usama Alshaibi, he's been posting up video blogs of himself talking to the camera on YouTube. In the first installment, embedded below, he ponders the issue of whether he's evil or arrogant. Here at the Underground Film Journal, we say neither! He's always been very gracious to us: