Filmmakers Make Websites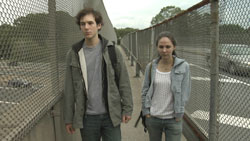 Two directors whose films the Underground Film Journal recently reviewed — great big, splashing, wow-you've-gotta-read-'em reviews — have written in to say they have new websites. One is a "new" new website and the other is a complete redesign and a change of address:
1) First up, is Andrew Semans of the fantastic All Day Long, which I couldn't stop raving about here. He's got a fresh new promo site with a very minimalistic design that looks super-snazzy. Andrew was nice enough to give the Underground Film Journal a shout out over there and you can go watch trailers clips from his films, All Day Long, I'd Rather Be Dead Than Live in This World and I Know Where I'm Going. There's also a page for news and one to find out more about Andrew. The site is, simply enough, AndrewSemans.com.
2) The mysteriously named director Mr. Young announces his new website; The Moon, The Eye; named after his new production company. His old one, hyperReel, has bit the dust. In contrast to Andrew's site; The Moon, The Eye is a Flash-based site with all kinds of freaky graphics and animation. Mr. Young, of course, is the director of the fascinating documentary East 3, which you need to read my review right now if you haven't already. In addition to that, there's info on Young's numerous shorts and his Young Film Academy program. If you live in England, you should sign up. Dude obviously knows what he's doing.