Filmmaker Skizz Cyzyk And Speck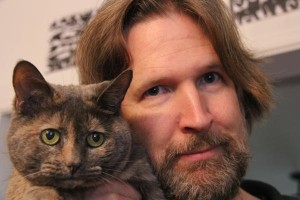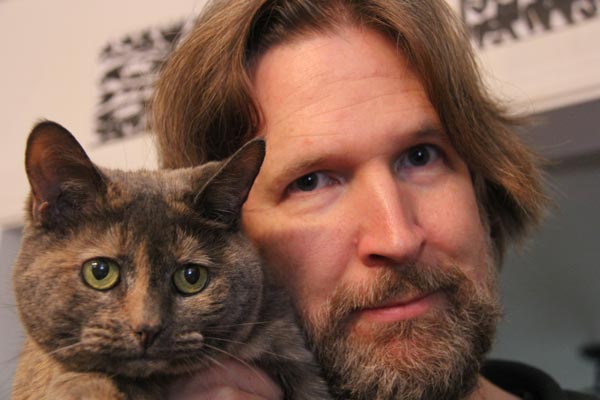 Skizz Cyzyk says:
My cat Speck is named after Pee Wee Herman's dog. My partner Jen and I got her in 1999, and suspect she's part raccoon. Speck always has a concerned look on her face. She doesn't like to be picked up, but I pick her up all the time anyway. After all these years, she's finally starting to deal with it. When I'm in bed, she will sit on top of me as long as she can't see my hands.
(Click photo above to embiggen.)
I have been making films since 1983. I have made a bunch of short films (Four Films in Five Minutes: A Trilogy, Little Castles, Star Spangled Babydoll, Managers Corner, Damn You Mr. Bush) and music videos (Meatjack, Beach House, Young Fresh Fellows). Lately, I have been making mostly feature-length documentaries.
Freaks in Love (co-directed with David Koslowski) is about how the band Alice Donut has navigated the ever-changing world of underground rock for a quarter century. MVD released it on DVD a couple years ago, and SnagFilms currently has it available for streaming.
Hit & Stay (co-directed with Joe Tropea) is about radical priests and nuns who protested the Vietnam War by breaking into draft boards, destroying draft files, and then waiting to be arrested. The film is currently playing on the film festival circuit.
Icepick to the Moon is a documentary I started working on in 1999, and am finally editing. The film is about an obscure "stripmine crooner" named Rev. Fred Lane, who came out of an interesting arts collective in Alabama in the Seventies. They were a wild group of radical, humorous, avant-garde artists and musicians, living in a very conservative, college-football-loving, Southern town.
Underground Film Journal says:
In addition to being a wonderful documentary filmmaker, Skizz Cyzyk is an icon and hero of the underground film world. His relentless DIY work ethic has made him one of the scene's most tireless supporters, having founded and run the legendary MicroCineFest in Baltimore and having worked with other numerous fests, like Slamdance and the Maryland Film Festival; and he has written for film journals, such as the beloved Cashiers du Cinemart.
And, apparently, he owns one hell of a cute cat. Click to see a larger version of the photo of Skizz and Speck.
If you'd like to see more of Skizz, please visit his official website. If you'd like to see more of Speck, please watch the video below.