Filmmaker Salise Hughes And Squeeky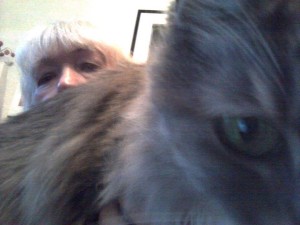 Salise Hughes says:
Squeeky is a long hair grey tabby who likes fuzzy mice, and gazing at crows out the window. I am an experimental filmmaker who also likes to gaze out the window at crows.
Underground Film Journal says:
Salise Hughes makes wonderful short experimental films that deal with identity and place through the manipulation of popular media and original footage.
One of her original footage films that we love is There Were Houses Here, a sadly meditative piece on the aftermath of Hurricane Katrina on New Orleans. Her most recent work, though, is her most staggeringly complex: Charade, a reworking of the light romantic thriller into a serious conceptual analysis on shifting identities.
Squeeky is a real cute furball, too.
More Cats: View our entire gallery of Filmmakers and Their Cats!
Submit: If you're a filmmaker and you love your cat companion, please send us a photo of you with your kitty.