Filmmaker Lori Felker And Czubek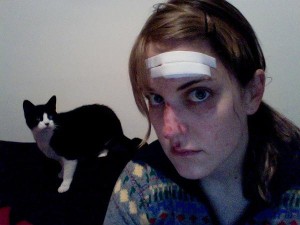 Lori Felker says:
Hi!
This is me: Runts
I'm a Chicago-based filmmaker and I make weird videos and films that vary in shape and size. I was also a programmer and organizer for the Chicago Underground Film Festival for a little while, until I took this year off.
My cat's name is Czubek (it's Polish), she's 16 (on March 18!) and feisty. She likes to sit on my lap while I edit, and she consoled me after I tripped and fell on my face while carrying a bunch of equipment home from an off-season CUFF screening. She's made appearances in a few of my experiments, but I'm working on a film that will feature her. She's that amazing.
Underground Film Journal says:
Lori Felker is one of the foundations of the Chicago filmmaking community. As she says above, she has worked for the Chicago Underground Film Festival and makes her own short films, such as Scattered in the Wind, which screened at the 2013 Views From the Avant-Garde section of the New York Film Festival. Plus, she has also created video and film installations for art galleries; served as cinematographer on other directors' films, such as Jerzy Rose's Some Girls Never Learn and Robert Todd's Master Plan; acts in films and much more.
(Lori tells us she's feeling much better after her spill.)
Submit: If you're a filmmaker and you love your cat companion, please send us a photo of you with your kitty.
Watch Czubek in action!
More Cats: View our entire gallery of Filmmakers and Their Cats!