Filmmaker Lisa Barcy And Nellie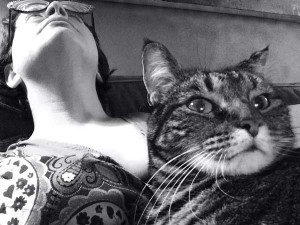 Lisa Barcy is a brilliant animator based in Chicago who mixes different styles — most prominently forms of puppetry and stop-motion animation — to create her ingenious short films.
Some of her fantastic work include the heartbreaking tale of undersea marital infidelity, Mermaid, which utilizes sand animation and semi-transparent cut-out puppetry; the rolicking Catholic road odyssey of The Guilt Trip; and the stop-motion music video for Andrew Bird's "Anonanimal."
And, in addition to her incredible film work, Lisa has been a longtime dear friend to the Underground Film Journal, even hosting us during our recent sojourn to the Chicago Underground Film Festival, where many of her films have screened.
The above photo — as well as the below bonus photo — are of Lisa and her adorable and her incredibly friendly cat Nellie. But, in truth, Lisa and her family are the guardians of four great cats. In addition to Nellie, there's Nora(h), Lloyd and Yukon Cornelius.
More Cats: View our entire gallery of Filmmakers and Their Cats!
Submit: If you're a filmmaker and you love your cat companion, please send us a photo of you with your kitty.