Filmmaker Kate Balsley And Princess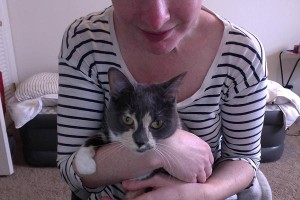 Kate Balsley says:
This is Princess. She was adopted from the Felines and Canines shelter in Chicago, but sadly we had to return her since my roommate was allergic. Felines and Canines is a fabulous no-kill shelter where cats are allowed to freely roam around a giant scratching-post filled room. (I am already the proud "pet parent" of two rescues from Carbondale, Illinois: Mujisa and Ursala.)
My experimental films deal with our interactions with the natural world. My narrative films are about arachnids that lurk in bathroom sinks.
Underground Film Journal says:
One of  Kate Balsley's short films is the wonderfully kinetic Anima Mundi, which was one of the top prize winners of the 2011 Milwaukee Underground Film Festival and is easy to see why once you watch it below.
In addition to making great films, she is also currently a lecturer at the University of Wisconsin-Milwaukee and Lake Forest College in Illinois.
You can learn a lot more about her at her official website, Lipstick Robot.
More Cats: View our entire gallery of Filmmakers and Their Cats!
Submit: If you're a filmmaker and you love your cat companion, please send us a photo of you with your kitty.