Filmmaker Josh Weissbach And Giblet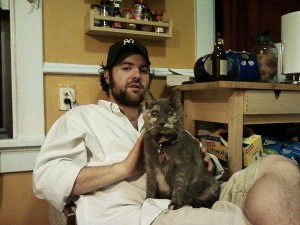 Josh Weissbach says:
Filmmaker Josh Weissbach (theoria, and none better than an old man, 106 River Road) sits with the first animal who ever fell in love with him, his deaf and blind cat Giblet.
Underground Film Journal says:
We were unfamiliar with Josh Weissbach's work up until this cat submission, but he makes beautifully photographed and composed experimental films, such as the meditative landscape film theoria, which we are embedding below.
His films have screened at many great festivals, such as the Ann Arbor Film Festival, Experiments in Cinema and Chicago's Onion City. But, you can also watch many of his films on Vimeo. And anybody who cares for a deaf and blind kitty is aces in our book!
Plus, there's a bonus photo of Josh and Giblet below.
More Cats: View our entire gallery of Filmmakers and Their Cats!
Submit: If you're a filmmaker and you love your cat companion, please send us a photo of you with your kitty.