Filmmaker Jo Dery And Panda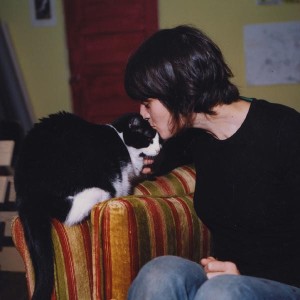 Jo Dery says:
Panda was just a brand new furball when she came to live with me in the spring of 2003, in Providence, RI. All of Panda's sisters and parents lived in Providence, too. On the kitties' first birthday, we held a party. All the cats hid in cupboards, closets, and under beds while the humans drank beer. It was a good time.
We currently live in Chicago where I teach Animation at DePaul University. Soon, we will be moving back to New England, where I will join the Film program faculty at Keene State College in Keene, NH. In the past few years, my projects have explored new contexts for animation — creating multi-media pieces that incorporate drawing, printmaking and objects. I have also made short films that have screened in festivals.
This month, Panda turns 11! She likes nutritional yeast and avocado, if anyone is interested in sending a gift.
Underground Film Journal says:
Jo Dery has created some of the most adorable animations we've ever seen. Our favorites are Munk and Monster and Echoes of Bats and Men. So, it wasn't much of a surprise to us that her feline companion Panda was equally as adorable.
In addition to making films, Jo also creates wonderful books and comics.
We wish Jo the best of luck in her new position at Keene State College and we hope to catch her newest pieces soon.
More Cats: View our entire gallery of Filmmakers and Their Cats!
Submit: If you're a filmmaker and you love your cat companion, please send us a photo of you with your kitty.