Filmmaker Jeff Krulik And Iggy Smalls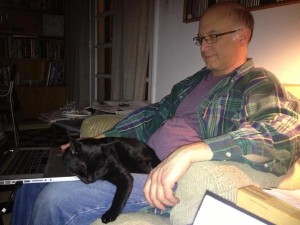 Jeff Krulik says:
My cat's name is Iggy, full name Iggy Smalls, but now he's just Iggy, not named after Iggy Pop.
He was a stray I took in, in 2009. Someone had callously abandoned him in the neighborhood and, after what might have been nearly two months trying to make his way in the cold cruel world (and several weeks of me trying to tend to him), we brought him inside. He was a handful. But he finally settled in to a nice and apparently happy life.
I love the guy.
Anyway, he zig-zagged all over the place when you tried to get near him when he was outside, so originally he was Ziggy, but that name just mutated into Iggy, which I liked better. So there you have it. Plus, I always liked the name Small from a character in Winnie the Pooh-land, so that's where Smalls came from him. (Plus he was so tiny and malnourished we thought he was a kitten, but the vets confirmed him to be a grown 2-year old when we brought him in.)
Underground Film Journal says:
If you don't know Jeff Krulik, then you don't know documentaries! Jeff first co-directed, with John Heyn, the iconic rock music fan doc Heavy Metal Parking Lot in 1986 and, since then, has built an incredibly prolific and acclaimed body of non-fiction work.
His films include the beloved Ernest Borgnine on the Bus, the mind-blowing short King of Porn, the brazen Mr. Blassie Goes to Washington, the rockin' Heavy Metal Picnic, the recently completed and controversial Led Zeppelin Played Here, and loads more.
Submit: If you're a filmmaker and you love your cat companion, please send us a photo of you with your kitty.
More Cats: View our entire gallery of Filmmakers and Their Cats!
Bonus gallery of Jeff Krulik and Iggy Smalls: