Filmmaker Elisabeth Desbiens And Petit-Poux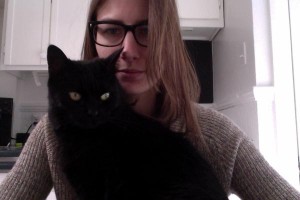 Élisabeth Desbiens says:
Hey!
I love my cat. She is called Petit-Poux. She's always sitting on my table between my arms while I'm writing scenarios on my computer.
Underground Film Journal says:
Élisabeth Desbiens has a background in both filmmaking and dance, so it's no wonder that several of her lovely films, such as On the Strand — which is embedded below — combine both her passions. On the Strand is quite stunning to look even if one does not know the language. (It's in French.) Perhaps she will also make a film someday featuring her third passion, the darling Petit-Poux.
But, seriously, her work is just gorgeous and you can find out more about Élisabeth at her filmmaker website.
More Cats: View our entire gallery of Filmmakers and Their Cats!
Submit: If you're a filmmaker and you love your cat companion, please send us a photo of you with your kitty.