Filmmaker Duncan Reekie And Tikky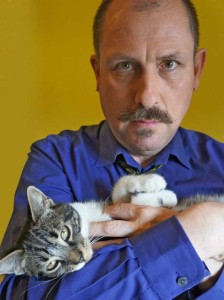 Duncan Reekie says:
My Cat is currently named Tikky and lately he's been waking me up by biting my face at 6am. I make all kinds of films and I also perform with film and music. Recently, my work has gone a bit abstract and psychedelic, but I'm now making a short documentary about the London Exploding Cinema Collective.
Underground Film Journal says:
We first became aware of Duncan Reekie way, way back in 2001 when he screened his collaborative film, Maldoror, at the New York Underground Film Festival. The film was ostensibly a feature-length adaptation of the controversial 19th century poetic novel in which a different filmmaker was to adapt a different chapter of the book. Some did, some made their own unrelated short film, creating a confusing and highly entertaining cinematic experience.
Duncan has been a central figure of the Exploding Cinema that he is currently making a documentary about. Plus, in addition to making films and curating screenings and events, he wrote the mind-blowing history of British underground filmmaking Subversion: The Definitive History of Underground Cinema that is mandatory reading for any underground film nut, like ourselves.
More Cats: View our entire gallery of Filmmakers and Their Cats!
Submit: If you're a filmmaker and you love your cat companion, please send us a photo of you with your kitty.