Filmmaker Christine Lucy Latimer And Mingus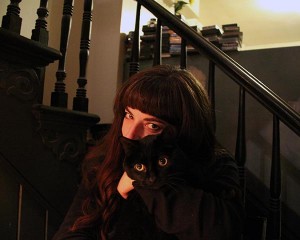 Christine Lucy Latimer says: My cat Mingus is named after legendary jazz bass player and composer Charles Mingus. When Mingus was a young kitten, the playing of a Charles Mingus record (particularly "The Black Saint and the Sinner Lady") would cause him to roll and flip around adorably on the floor. Mingus is also a famous destroyer of 16mm film head and tail ends that may hang off of the film reel. He chews on them like food. Perhaps he's capable of making an entire "chew film project"? However, I'm not sure if it would run smoothly through the projector!
My films explores the aesthetic and structural potential of antiquated and historic moving-image forms. Fascinated by film obsolescence and arbitrary notions of archivism and preservation, my time-based works hybridize video and film formats in a heteroclitic blending of technologies.
Underground Film Journal says: The work of Christine Lucy Latimer is fascinating, curious and hypnotic, such as her electric short film The Pool. She uses very complex techniques to create extremely beautiful visual environments, and really smartly combines analog material, e.g. using found 16mm film, with modern digital equipment, which makes her films extremely unique.
You can check out more of her work on Vimeo.
Plus, a bonus photo of Christine and Mingus below!
More Cats: View our entire gallery of Filmmakers and Their Cats!
Submit: If you're a filmmaker and you love your cat companion, please send us a photo of you with your kitty.