Filmmaker Brian L. Frye And The T.J. Hooper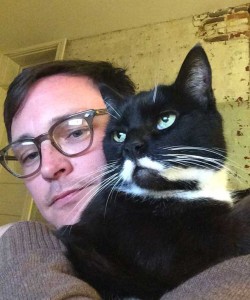 Brian L. Frye says:
Brian L. Frye (Our Nixon & obscure art films) is a filmmaker & law professor. The T.J. Hooper was a 28th birthday present from filmmaker Marie Losier. Hooper is named after the case in which Judge Learned Hand defined the standard for negligence. Her moustache echoes Justice Holmes's.
Underground Film Journal says:
Having a background in the law, Brian L. Frye really brings a unique perspective that stands out in the underground film world. We particularly enjoy his short found footage film A Reasonable Man, which stirs up all kinds of uncomfortable connections between reality and filmed "entertainment" in a very simple, but direct way.
Our Nixon, which Frye produced and was directed by Penny Lane, was a huge hit on the festival circuit last year, then aired on CNN and is currently streaming online.
Plus, in addition to making films, for many years Frye ran the Robert Beck Memorial Cinema screening series in NYC, which was very influential to many underground filmmakers while it was in operation. A book of posters and other printed matter for the series can be perused at Archive.org.
More Cats: View our entire gallery of Filmmakers and Their Cats!
Submit: If you're a filmmaker and you love your cat companion, please send us a photo of you with your kitty.