Filmmaker Brady Hall And Reggie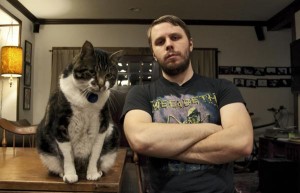 Brady Hall says:
My cat Reggie is a big stupid idiot who brings in half-dead rodents and lets them run off under furniture to die and stink up the place. He screams and yells all the time like a jerk. But other than that he's OK.
I'm a big stupid idiot who makes movies sometimes. My latest one is called Scrapper and is pretty OK.
Underground Film Journal says:
Brady Hall makes outlandish short films, such as The Unreachable Pyramid that we plan on featuring on the site soon, as well as feature films with wonderful names such as Hello, My Name Is Dick Licker that screened at the 2012 Atlanta Underground Film Festival.