Filmmaker Ben Popp And Frieda And Charlie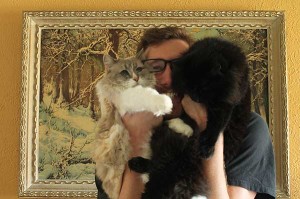 Ben Popp says:
I have two cats, one is a fat white fluffy thing named Frieda, who sticks her tongue out when a finger is run over a comb near her. The other is a fluffy black cat with extra toes named Charlie. He's a loudmouth bastard. They form two complete members of the Hairpants Club, the other one being a Dog, but ya know… Dogs…
I make animated films that sometimes make sense in narrative fashion and other times just use the animated form to convey an abstract concept. I mainly shoot on 16mm and hand process it. I also use cut outs or the world as my subject(s). I should really be making cat films though… They were in one film a long time ago.
Underground Film Journal says:
Ben Popp is a terrific and unique animator whose short films are extremely playful and fun. A great example is the wrestling film Bif vs. Bam, which is embedded below.
Ben has also made some live-action stuff, such as the music video for Eat Skull's "How Do I Know When to Say Goodnight," co-directed by Bob Moricz. In addition, Ben is a major force in the Portland underground film scene, especially as one of the talents behind the annually epic Experimental Film Festival Portland (EFFP).
Submit: If you're a filmmaker and you love your cat companion, please send us a photo of you with your kitty.
Watch Ben Popp's Bif vs. Bam:
Bonus Ben Popp cat photos!