Filmmaker Aaron Zeghers And Baby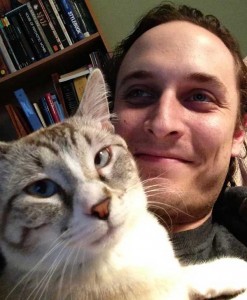 Baby says: My name is Baby and I do what I want! My roommate / servant / underground filmmaker Aaron Zeghers is a pretty good guy to share an apartment with. But let's get one thing straight here… I wear the pants around this place. Not literally of course as I have an incredibly soft fur coat, rendering pants useless.
Aaron thinks he's pretty cool because he makes movies and runs Open City Cinema and the Winnipeg Underground Film Festival. I'm kind of mad at him right now because he's been so busy with his fancy new job as film programmer for the Gimli Film Festival, but as long as he feeds me I guess I won't have to murder him in his sleep. I don't really care about his weirdo movies, except for that one he made about animals… obviously.
All the best,
-Baby
Underground Film Journal says: As outlined by his Baby above, Aaron Zeghers is an incredibly busy dude and has become a real force in the Winnipeg underground film scene, co-running screenings and festivals — and, yes, making great movies. (Aaron's been a great friend to the Journal for several years now, too.)
He's also a terrific, prolific filmmakers. Check out his amazingly crafted Chaos Theory, a really evolved and fun flick created for WNDX's annual One Take Super 8 event. Plus, he's got a lot more samples of his work on Vimeo, like the great I See a Light.
More Cats: View our entire gallery of Filmmakers and Their Cats!
Submit: If you're a filmmaker and you love your cat companion, please send us a photo of you with your kitty.
Trailer for Aaron Zegher's Triumph of a City: