Film Tour: To Dream Of Falling Upwards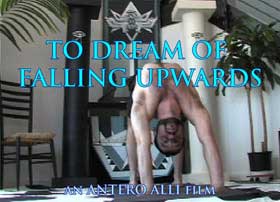 Master of the paratheatrical, filmmaker Antero Alli is hitting various points on the West Coast from February to May with his latest feature film, To Dream of Falling Upwards, an occult, spiritualist thriller.
Although not a practicing member of the occult himself, Alli's inspiration for those elements in the film came from his dealings with the late Dr. Christopher S. Hyatt, who was himself a practicing Magus of the thelema philosophy developed by Aleister Crowley in the early 20th century.
In the film, after a respected Magus (Arden Schaeffer) passes away, his beloved Temple becomes a battleground between two opposing forces: The Magus' son (Duncan Cook), who wants to commercialize the enterprise, and Jack Mason (James Wagner), a rising star sex magickian.
Plotting his bold power grab, Jack comes into contact with several unsavory characters, including professional psychopaths and desert witches. Meanwhile, Jack's apprentices (Jasper Patterson and Brian Livingston) offer a competing narrative through a clownish interpretation of the fairy tale Jack and the Beanstalk.
The dates that Alli has scheduled so far for his West Coast tour are below. The film's World Premiere will be at the Humanist Hall in Oakland, CA on Feb. 25. Then, Alli will host several more screenings in the Bay Area over the following weeks before heading north to Portland and Seattle. Other screenings are also planned for Hollywood and Sacramento in California, and in Eugene, Oregon, but dates haven't been finalized for those cities yet.
Alli is involved in both filmmaking and the theater. His work is based on and adapted from the concept of "paratheatrical" developed by the late Polish theater director Jerzy Grotowski, who was concerned with ways of breaking down the barriers between performers and audience. Of his own experience with the paratheatrical, Alli says:
Whatever way I look at this paratheatre work, we are engaging magickal processes and transformative rituals. Whereas the occult magickian strives to achieve knowledge and conversation with the H.G.A. to increase power, my aim as a filmmaker is to use similar methods to open up the playing fields of Creation and stimulate the Poetic Imagination.
Watch the movie trailer for To Dream of Falling Upwards, then check out the touring dates below. Also, please visit the film's official website for more info.
Feb. 25
8:00 p.m.
Humanist Hall
390 27th Street
Oakland, CA 94612
March 18
8:00 p.m.
Artists Television Access Center
992 Valencia Street
San Francisco, CA 94110
April 22
7:00 p.m.
Anno Domini
366 South First Street
San Jose, CA 95113
May 19
9:00 p.m.
Clinton Street Theater
2522 Southeast Clinton Street
Portland, OR 97202
May 20
9:30 p.m.
Hollywood Theatre
4122 NE Sandy Blvd
Portland, OR 97212
May 27
8:00 p.m.
Northwest Film Forum
1515 12th Avenue
Seattle, WA 98122