Fidel Castro Es Bilbo Baggins Cortesia De Jim Finn
One of the nice results of building up the Underground Film Guide — and yes that's your cue to go check it out — is becoming acquainted with filmmakers that I haven't covered before on the Underground Film Journal. One of those people is Jim Finn, who burst onto the underground scene after I left NYC and the NYUFF behind. Finn then built up a very strong filmography during those few years I let the Underground Film Journal go dark.
Now, Finn's name pops up all the time in my festival listings and I always think "I gotta check him out some more," but never find a good excuse to. But, I added Finn and his debut feature film, Interkosmos, to the UFG two days ago. Then, I went looking for his videos online. Of course, he's got a YouTube channel with about 20 videos on it, one of which I've embedded above. (UPDATE: Finn moved this video over to Vimeo, which I embedded.)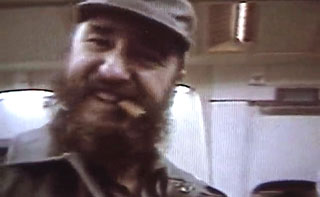 It's called el moro and it's part of Finn's 2004-5 series entitled la loteria, which I like this one so much, I hope he gets around to putting up all the others. el moro is actually kind of a simple "mashup" video combining images of Fidel Castro with the Leonard Nimoy song "Bilbo Baggins." If you haven't seen the original Nimoy music video, I recommend checking it out. It's one of the most insane things I've ever seen. Everyone makes fun of William Shatner for "Rocketman" and I don't know why Nimoy gets a pass on this one.
Back to Finn's video, the genius of it isn't just in that he's mashing these two concepts together, it's in how he's strung together the perfect Castro images to the lyrics of the song. The visuals tell a little story along with the song. It's all matched just so perfectly. Best parts: Goblin = Nixon; Gollum = Kruschev.
And, actually, Finn does have one other la loteria video up. It's called el paraguas and this one combines images of Donald Rumsfeld and Saddam Hussein with the Grateful Dead peforming the Irish folk ballad "Dreadful Wind and Rain." The opening lyric is "There were two sisters came walkin' down the stream" with that famous picture of Rumsfeld and Hussein shaking hands back in the '80s. Check that out below. And if you want to find out more about Finn, please visit his fun official website.