Feature Film Online: The Observers
Let's talk about the weather. Or, at least observe it. Two climate scientists go about their daily routines throughout the seasons in The Observers, a meditative rumination on observational study directed by Jacqueline Goss.
Filmed atop Mr. Washington in New Hampshire, which is the highest peak in the Northeastern United States, The Observers has all appearances of being a vérité documentary. It follows two different scientists at two different points of year — one in the freezing winter snow and the other during a warmer time — who make recordings and analysis of the weather.
Both scientists are women and their work is a lonely endeavor. The wintry scientist operates in extreme solitude. She is the only person at this research facility and it's no wonder why — the freezing weather and extreme winds seem to be completely unbearable. But, she braves the great outdoors, gathering data on little instruments while covered in layers of thick clothing.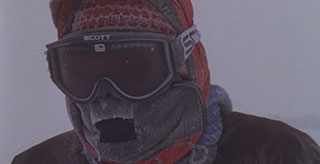 During the warmer months, the facility becomes a tourist attraction. Families wander the grounds, taking in the spectacular views. But, this scientist operates just as if nobody is there. She exists solely immersed in her study. Other human beings are of no use to her.
The following information is not a "spoiler" since the film is not attempting to trick its audience, but the scientists in the film are actors playing a role. Like Goss, both women on screen are experimental filmmakers: Dani Leventhal and Katya Gorker.
Although titled The Observers, the film is not concerned with the human beings on screen — just like the summertime scientist is unconcerned with the people around her. The film instead is to make observers of the audience, through its long static and/or slow-moving takes of either the scientists' monotonous behavior or of the expansive landscape or of the details of the research facility.
As the scientists are presumably taking note of the unseen messages to be found in the weather, Goss is asking the audience to find our own unseen connections between the larger natural world and the intimate details of man-made structures, whether it's the research facility building or the train tracks shuttling the tourists up and down the mountain.
That Goss wants us to gaze in wonderment at this unique spot in the world is encapsulated in the film's most mysterious moment. Somewhat early in the film, Leventhal finds a metal carrying case buried strangely in the snow, then spends significant time attempting to crack the case's combination lock, in much the same way she is attempting to crack the code of the weather patterns blustering all around her. But what is the connective code between what is seen and unseen — that is what Goss wants us to really observe.
The Observers won the Overkill Award at the 2012 Images Film Festival. The award is given to an artist "whose work approaches extremes of incorrigibility through form and/or content and challenges our notions of edgy, experimental practice."