Feature Film Online: The Man Who Would Be Polka King
The polka revolution is dead! And the one who put the stake in its cold, dead heart is this man: Jan Lewan, who is the subject of the wickedly fun documentary The Man Who Would Be Polka King, embedded above. Ironically, Lewan was the one who could have turned polka into a post-Lawrence Welk international sensation. That is, until greed convinced him to milk his fans for thousands of dollars in a cruel Ponzi scheme. Think Bernie Madoff backed by accordion music.
The story that filmmakers John Mikulak and Joshua Von Brown have told is all true, especially the bizarre little details that are too insane to make up. An unmistakeably charismatic man, Lewan was able to convince dozens of his fans that a goofy little gift shop selling cheap Polish trinkets was some kind of multi-million dollar empire. And he did it through such schemes as organizing trips to the Vatican so he and his fans could spend a few minutes hanging out with Pope John Paul II himself.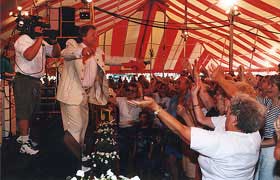 Things started to go south for Lewan when he — allegedly — tried to rig a beauty pageant for his wife to win. His followers started to turn on him as their eyes opened up that they were being taken in by just an ordinary con man. But, who was really conning who? The film slightly hints at the idea that Lewan's fans may have simply turned a bind eye to the fact that nothing the so-called polka king promised could have ever been true, as long as their "investment" reports kept rising.
While the documentary has a fun, bouncy pacing and presentation framed by wonderful reporting by "polka expert" Stan Tadrowski, it actually covers a whole host of serious issues about greed and people's desperate need to cling to hope and validation. Lewan's story could have been about the perfect American dream: A marginally-talented immigrant finding fame and fortune while pursuing his love for entertaining people.
But, instead, Lewan became another casualty in the true American story of financially taking advantage of others' good will, however complicit they are in their own actions. It's the perfect film for our current economic climate.
You can read the Underground Film Journal's original review of the film here.