Feature Film Online: Ok, Good
(Note: Film is no longer on Hulu, but you can watch it on Amazon Prime.)
Los Angeles is a city where dreams are made. But, for most people looking to find a career in the entertainment industry, this town can become an unending nightmare. The torture of an L.A. working actor's existence is exquisitely captured in Daniel Martinico's Ok, Good.
This is Martinico's first feature film, but like his video installation pieces and short films such as Khan and Bike Thief, he maximizes the technique of repetition to terrific effect, which immediately immerses the audience into the mind-numbing life of the movie's main character, Paul Kaplan (Hugo Armstrong), as he blandly travels from commercial auditions to acting workshops to a headshot procurement that escalates into an epic battle.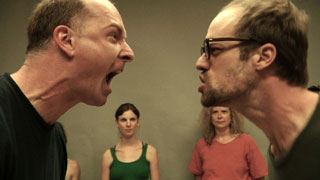 Kaplan has no life other than his acting — no friends, no family, no hobbies. He attempts to console himself through listening to life affirmation tapes driving from one mundane task to another. To the audience, Kaplan's dilemma is obvious. He cannot achieve his dream while being forever locked in his cycle of torment. Working actors are successful largely based on having a pleasing personality. Kaplan has lost his long before the events of the film occur. (Well, if he ever had one.)
But, what's also wonderful about Ok, Good is that while the movie's action is very L.A. and entertainment industry specific, Kaplan's frustration with his career and life resonates on a fully humanistic level. One doesn't have to be an actor to feel the crushing weight of Kaplan's feelings of worthlessness — feelings that are conveyed without any expository dialogue. His complete breakdown towards the end of the film while by himself in his sparse apartment is a brutally raw and emotional one.
Lastly, Ok, Good is currently available to view on several different on-demand online platforms, including Amazon and Vimeo. But there's something extra satisfying viewing it on Hulu with the commercial interruptions. It is interesting to watch others periodically who have "made it" and wonder if they had to go through a similar fate as suffered by Kaplan in his profession.