Experiments In Cinema v.5.1: Official Lineup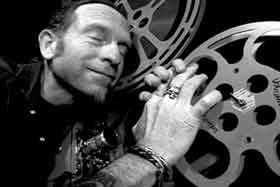 While I missed listing the April 10 "Regional Youth Program" — which was technically the opening night — below is the lineup for the rest of Experiments in Cinema v.5.1. that will run April 14-18 at several venues in Albuquerque, New Mexico, including the Guild Cinema.
This is four nights and one day of some of the best cutting edge experimental films and videos being made today. Each night — and the day — is jam-packed with over three hours or of unique and intriguing short films made by filmmakers such as Sylvia Schedelbauer, Vanessa Renwick, Robert Todd, and Kerry Laitala. All told, there will 50 films from 13 countries screening, including 12 World Premieres.
Although Experiments in Cinema is truly an international event, festival director Bryan Konefsky is placing a special emphasis on regional filmmaking and has invited other festival directors and film curators to showcase works from their particular region. Montse Badia will screen Spanish experimental video, Isabel Fondevila will showcase works from San Franciso filmmakers, Bart Weiss will show films from Pakistan and Chris McNamara presents a night of Canadian cinema.
I do have one film to recommend specifically: Ben Russell's surreal ethnographic film Trypps #6 (Malobi). The film is a real trip (pun intended) as you get a brief glimpse of how Halloween is celebrated on the Equator.
The full lineup is below. And if you need more info, including screening locations, please visit the official Experiments in Cinema website.
April 14
6:00 p.m.: "Experiment 2"
Teslamania, dir. Joel Schlemowitz
The Vase, dir. Jeremy Newman
Walking Under the Sun, dir. Diana Fonseca
2 Home Movies, dir. Masha Godovannaya
A Diamond Forms Under Pressure, dir. Paul ODonoghue
A Pattern of Prophecies: An Adaptation of Shakespeare's Macbeth, dir. by Laurel Ann Petty
Way Fare, dir. Sylvia Schedelbauer (Read the review)
Dromosphere, dir. Thorsten Fleisch
7:10 p.m.: "Experiment 3"
Open House, dir. Diane Nerwen
Making an Arab Girl, dir. Hannah Hollander
Into Daylight, dir. SJ Ramir
Smoking, dir. Eliseo Ortiz Menchaca
8:20 p.m.: "Experiment 4"
Common Ground, dir. Vera Brunner-Sung
Road Not Taken, dir. Linda Scobie
Sea Front, dir. Stuart Moore
Auto-Pilot, dir. Charles Lum
The Eternal Wink, dir. Eytan Ipeker
Untitled (2 axes), dir. Tim McConville
April 15
7:00 p.m.: "Experiment 5"
Montse Badia, a Barcelona-based curator, will present a program of contemporary Spanish video art.
April 16
6:00 p.m.: "Experiment 6"
Imprint, dir. Cecilia Araneda
You Have Not Found His Riddle, dir. Yaron Lapid
We Interrogate the Detainees, dir. Heidi Neubaurer-Winterburn
The Unemployees, dir. Rafaël
Vienna in the Desert, dir. Wago Kreider
Abstract?, dir. Alexei Dmitriev
The Chambered Nautilus, dir. Vanessa Woods
7:00 p.m.: "Experiment 7"
Lovemaking, dir. Vienne Chan
Terrifying Blankness, dir. David Finkelstein
Portrait 2: Trojan, dir. Vanessa Renwick
Devour, dir. Ben Popp
Charades, dir. Ann Steuernagel
8:10 p.m.: "Experiment 8"
Isabel Fondevila, director of San Francisco's ATA Film & Video Festival, will screen a selection of short experimental films by Bay Area filmmakers whose work screened in the festival's edition last year. Fondevila will also give a presentation on S.F.'s film scene.
April 17
6:00 p.m.: "Experiment 10"
Lay Claim to an Island, dir. Chris Kennedy
Places Change, dir. Taylor Lane
San Quentin, dir. Katherine McInnis
Ground Play, dir. Robert Todd
Dropping Furniture, dir. Harold Hund and Paul Horn
7:05 p.m.: "Experiment 11"
1/48, dir. Jorge Lorenzo
Scene 32, dir. Shambhavi Kaul
Eight Women, dir. Laura Bouza
These Wicked Men, dir. Ertrok
Oh, How Sad, dir. Maite Abella (Read the review)
8:10 p.m.: "Experiment 12"
Chris McNamara, a founding member of the Media City Festival of Experimental Film and Video, will screen films that he feels are significant to him; and will give a presentation on Canada's network of film festivals.
April 18
12:00 p.m.: "Experiment 13"
Bart Weiss, director of the Dallas Video Festival, will screen a selection of videos by Pakistani filmmakers given to him during a recent visit.
1:20 p.m.: "Experiment 14"
Metamorphosism, dir. David Lebrun
Found: Nothing Missing, dir. Patricia McInroy (Read the review)
Journey to Q'xtlan, dir. Peter Rose
Lost in the Flood, dir. Doug Katelus
The Commoners, dir. Penny Lane & Jessica Bardsley
2:25 p.m.: "Experiment 15"
Afterimage: A Flicker of Life, dir. Kerry Laitala
Trypps #6 (Malobi), dir. Ben Russell (Read the review)
The Conversation With Dr. Mouse, dir. Sook Hyun Kim
Slap the Gondola, dir. Marie Losier