Experimental Film Coalition: The Monthly Screenings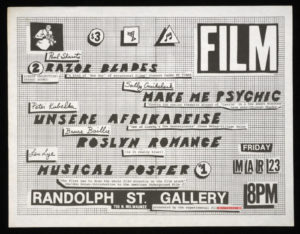 This is Part Two in a series about Chicago's Experimental Film Coalition; and covers their screening series. You can read Part One about their origin here.
Formed in 1983, the Experimental Film Coalition started holding regular monthly screenings most likely beginning on January 27, 1984. Any earlier screenings information has not been uncovered so far.
One of the original members of the Coalition, David Koblesky, recalls discussing the need to show more experimental films in Chicago with John Luther Schofill, a professor at the School of the Art Institute of Chicago (SAIC). At the time, the only venue in the city at which to see experimental films was Chicago Filmmakers, which was incorporated in 1976.
According to Koblesky, Chicago Filmmakers adhered to the screening format advised by the Film-makers' Cooperative in 1962: Screen only the work of one filmmaker per screening. Koblesky and Schofill wanted to upend that format and show multiple works of different styles by different filmmakers at each event. For example, at that January 27, 1984 screening, the Coalition presented several films by collage filmmaker Bruce Conner, the No Wave-influenced Rachel Reichman and the prolific Stan Brakhage.
Koblesky and Schofill arranged to have these screenings at the Randolph Street Gallery, an alternative performance and exhibition space located at 756 N. Milwaukee Ave. Schofill built a wooden box for the projector to dampen its noise during the screenings while Koblesky, a graphic artist, designed the promotional posters. The two flyers seen in this article are Koblesky's work and were found on the SAIC's archive website where the Gallery's archives were donated after it shut down in 1998.
Screenings were run by Schofill and Koblesky with help from SAIC students. Modest entrance fees were collected to pay for the film rentals, while the Gallery sold concessions, such as beer, wine and snacks. Koblesky recalls that around 200-300 people would show up for these events, which were held on Friday nights. Films were selected specifically to mix more challenging films with crowd pleasers per event; and with the Gallery selling refreshments the screenings had a sort of party atmosphere.
The Schofill-Koblesky run screenings lasted for "a year or two.". However, the Randolph Street Gallery archives show that the Coalition screened films at least until 1993 and continued the tradition of showing the work of multiple filmmakers at each event. Who took over from the two screening founders is unknown at this time.
Below is a partial list of screening info culled from the SAIC archive website and from material provided to the Journal by Koblesky. Some of the more memorable events for Koblesky was when the Coalition screened his mentor Mike Covell's film Herinneringen; and when the Coalition brought Jack Smith to the Gallery. Smith refused to screen his films, but he put on a performance piece, instead. (These two events are not listed below.)
1984
January 27
Mongoloid, dir. Bruce Conner
5:10 to Dreamland, dir. Bruce Conner
America Is Waiting, dir. Bruce Conner
Valse Triste, dir. Bruce Conner
A Child's Introduction to the Wonders of Space, dir. Rachel Reichman
In the Twilight, dir. Rachel Reichman
The Garden of Earthly Delights, dir. Stan Brakhage
Unconscious London Strata, dir. Stan Brakhage
February 24
Rabbit's Moon, dir. Kenneth Anger
Plumb Line, dir. Carolee Schneeman
Pasteur, dir. Will Hindle
Moon Breath Beat, dir. Lisze Bechtold
Critical Mass, dir. Hollis Frampton
March 23
2 Razor Blades, dir. Paul Sharits
Make Me Psychic, dir. Sally Cruikshank
Unsere Afrikareise, dir. Peter Kubelka
Roslyn Romance, dir. Bruce Baillie
Musical Poster #1, dir. Len Lye
April 27
Rainbow Dance, dir. Len Lye
One Week, dir. Buster Keaton
On the Marriage Broker Joke As Cited By Sigmund Freud In 'Wit and Its Relationship to the Unconscious,' Or Can the Avant-Garde Artist Be Wholed?, dir. Owen Land
Fuji, dir. Robert Fulton
Nightsail, dir. George Semsel
October 26
The Ties That Bind, dir. Su Friedrich
Trial Barrons, dir. Robert Breer
Hurry! Hurry!, dir. Marie Menken (On DVD)
November 30
Cantico, dir. James Herbert
Devotions, dir. James Broughton and Joel Singer (On DVD)
Last Works, dir. Len Lye
Trekkeriff, dir. Will Hindle
Loony Tom, dir. James Broughton (On DVD)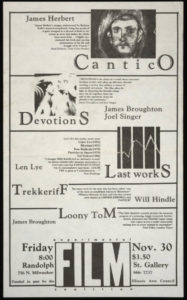 1985
December 20
Pull My Daisy, dir. Robert Frank and Alfred Leslie
The End, dir. Christopher MacLaine
Inauguration of the Pleasure Dome, dir. Kenneth Anger (On DVD)
1986
March 21
Willie, 1985, dir. Danny Lyon
How to Get Out of a Burning House, dir. Robert Nelson
The Beholder, dir. Christopher Sullivan
April 18
Fireworks, dir. Kenneth Anger (On DVD)
Un Chant d'Amour, dir. Jean Genet
Sync Touch, dir. Barbara Hammer
Little Stabs at Happiness, dir. Ken Jacobs (On DVD)
Confessions, dir. Curt McDowell
Cumulus Nimbus, dir. Virginia Guitlian
Hermes Bird, dir. James Broughton (On DVD)
May 16
Wilderness: A Country in the Mind, dir. Robert Fulton
Mosaik im Vertrauen, dir. Peter Kubelka
Taris, dir. Jean Vigo
The Woman When Sacred, dir. Walter Gutman
Sunstone, dir. Ed Emshwiller
June 20
Caswallon Fire Loop, dir. Stan Brakhage (Chicago premiere)
Jazz Dance, dir. Roger Tilton (photographed by Ricky Leacock)
Films by Maya Deren, Joseph Cornell and Larry Jordan (exact films not specified)
1987
April 17
Silverpoint, dir. Barbara Linkevitch
La Jetee, dir. Chris Marker
Love Sacrifice, dir. Stan Brakhage (Midwest premiere)
Scar Tissue, dir. Su Friedrich
1988
February 15
"Midwest Experimental Animators"
Place in a Well Lit Spot, dir. Tom Stills
Landscape With the Fall of Icarus, dir. Chris Sullivan
(Plus other films curated by Sullivan)
1989
January 20
5th Anniversary Show
(Films screened unknown)
November 17
Perfect Film, dir. Ken Jacobs
Rocket Boy Versus Brakhage, dir. Phil Solomon
Dreams From China, dir. Fred Marx
Possum O' Possum, by the Center for Southern Folklore
December 15
Thundercrack, dir. Curt McDowell
Der Elvis, dir. Jon Moritsugu
1990
September 21
Untitled, dir. Heather McAdams
Why?, dir. Charolette Pryce
The Man Who Could Not See Far Enough, dir. Peter Rose
Where's My Feet, dir. Michael Kane
Shells and Rushes, dir. Sharon Couzin (former President of the Experimental Film Coalition)
October 19
The Suicide Squeeze, dir. Bradley Lewis
Ready-Made, dir. Caroline Avery
Breathdeath, dir. Stan Vanderbeek (Watch online)
Bedtime Story, dir. Esther Shatavsky
December 21
Hyacinth Fire, dir. Lawrence Brose
1991
January 19
Rehearsals for Extinct Anatomies, dir. The Brothers Quay
L'Ange, dir. Patrick Bokanowski
1992
January 17
Watersmith, dir. Will Hindle
Plus, three other films by Hindle
February 21
"Contemporary Animation From the Netherlands"
Films by: de Nooyer, Vegter, Nassenstein, Maxwell, de Bruyn, Poeth, Verbeek and Wiertz (only last names given)
March 20
"In a Realm of Her Own"
(Films screened unknown)
May 15
"The Human Animal" (animations curated by Chris Sullivan)
The Viscera, dir. Willy Harland
Women and Men, dir. Kathy Papinski
Night Bird, dir. Bernard Palacious
Tale of Tales, dir. Yuri Norstein
What Creature This, dir. Tom Kinnaird
Man's Best Friend, dir. Mark Fischer
June 19
First Annual Film Slam
(Films screened unknown)
October 9
Coalfields, dir. Bill Brand
(Other films screened unknown)
1993
March 21
The Famine Within, dir. Katherine Gilday
Read Part Three of this series: Experimental Film Coalition: Onion City Film Festival