Experimental Film Coalition: Onion City Film Festival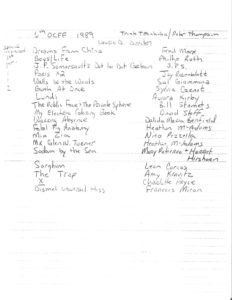 This is Part Three in a series about Chicago's Experimental Film Coalition; and covers their annual experimental film festival. You can read Part One here and Part Two here.
In addition to their monthly screenings, the Coalition founded what was initially called either the Festival of Experimental Film or the Experimental Film Festival. The first one was most likely in 1984. By 1987 it was called the Onion City Film Festival, which it has been called ever since. The Coalition ran Onion City annually until 2001 when it was taken over by Chicago Filmmakers, and continues to run to this day.
1984
Of the first Experimental Film Festival, the dates it ran and the exact list of films that screened are not known as of this writing. However, filmmaker Paul Glabicki lists that his film, Film-Wipe-Film won a Jury Award.
1985
For the second Experimental Film Festival, again the dates and films screened are not known. However, Coalition co-founder Sharon Couzin remarked that the fest ran for 12 hours a day for three days and only 35 people attended. Also, Glabicki writes that another film of his, Object Conversation, won a Jury Award at this edition.
1986
A little bit more is known about the third annual Experimental Film Festival in 1986. It was held in the loft of Richard "Hollywood" Roepnack and the judges were Barry Gerson and J. Leighton Pierce. Prize money totaling $1,500 was given out, but exact specifics of how it was awarded is unknown. What is known is that the first prize was shared by Carolyn McLuskie, whose film is unknown, and Rick Hancox, who screened Beach Events.
Other films at the 3rd Experimental Film Festival include:
Optic Nerve, dir. Barbara Hammer
Southwestern Ballet, dir. Dan Curry and Kimberley Louchlin
Episodes From the Secret Life, dir. Barry Gerson
And Sometimes the Boats Are Low, dir. J. Leighton Pierce (Watch Online)
Returning the Shadow, dir. Karen Holmes
Buffalo One, Buffalo Two…, dir. Colleen Sullivan
1987
In 1987, the festival was now known as the Onion City Film Festival, and ran on two days: October 30 and 31 at the Northwestern University Swift Auditorium. (The choice of location is interesting since the Coalition was started by students at the School of the Art Institute Chicago.) Both days featured three hour blocks of films. Also, somewhat confusingly, the numbering of the festivals begins to get mixed up a little by this change in name, as we'll indicate as we discuss future editions.
The full list of films that screened at this first Onion City is unknown, but critic Jonathan Rosenbaum reviewed selected films of this and the next few editions. For this edition, he reviewed:
Today Is Sunday, dir. Jean Sousa
Artificial Paradise, dir. Chick Strand
Dmitri and Ramona, dir. Alex Prisadsky
Continuum, dir. Dominic Angerame
Advanced Civilized Nation, dir. Scott Guitteau
The Key of Dreams, dir. Chel White
Shells and Rushes, dir. Sharon Couzin (President of the Coalition)
1988
In 1988, the Onion City Film Festival ran on November 4-6 at a loft at 1550 N. Milwaukee; with an additional screening of the festival's winning films on November 7 at the Art Institute's Film Center. Rosenbaum reviewed a random selection of films:
Grid, dir. Mike Hoolboom
Machine Song, dir. Chel White
Bar Yohai, dir. Robert Asher
What's Left Is Wind, dir. J. Leighton Pierce
Living in Quotes, dir. Laurie Dunphy (1989's Festival Director — see below)
Sharon and the Birds on the Way to the Wedding, dir. Lynn Kirby
Decodings, dir. Michael Wallin
A Still Life in Postcards, dir. Ines Sommer
Additionally, animator Steven Vander Meer writes that his film Arcata Brain Closet was an official selection of the 1988 festival.
1989
In 1989, Rosenbaum remarked that the Onion City Film Festival was now in its 6th year, which is how one would count if one included the festival's first 3 years.
This edition of the festival was held at the Randolph Street Gallery, where the Coalition held its regular monthly screening series. The Festival Director was Laurie Dunphy; and the jurors were Trinh T. Minh-ha and Peter Thompson. The Onion City online archive includes a PDF of a hand-written list of films that screened, which has been transcribed below. While the archive doesn't include any reference to the hand-written list, it matches up with film critic Jonathan Rosenbaum's review of the festival for the Chicago Reader.
Dreams From China, dir. Fred Marx (Special Jurors Award winner)
Boys/Life, dir. Phillip Roth
J.P. Somersault's Dot to Dot Cartoon, dir. J.P.S.
Paris x2, dir. Jay Rosenblatt
Walls in the Woods, dir. Sal Giammona
Both At Once, dir. Sylvie Carnot
Lundi, dir. Aurora Kirby
The Public Face & The Private Sphere, dir. Bill Stamets
My Electric Coloring Book, dir. David Stoff
Warring Absence, dir. Dalida Maria Benfield
Fetal Pig Anatomy, dir. Heather McAdams
Mia Zia, dir. Nino Pezzella
Mr. Glen W. Turner, dir. Heather McAdams
Sodom By the Sea, dir. Mary Patierno, Harriet Hirshorn
Sorghum, dir. Leon Corcos
The Trap, dir. Amy Kravitz
X, dir. Charlotte Pryce
Dismal Universal Hiss, dir. Francois Miron
1990-1993
As of this writing, no information has been found for the next several editions of the festival, from 1990 to 1993.
1994
However, the Onion City Film Festival archive includes a PDF of the entire program for 1994, which ran on May 27-29 and is called the fest's "8th Annual" edition. This means the numbering has changed by this time, eliminating the first three festivals from the official count.
Festival judges were Lynne Sachs and Laurie Dunphy. (Dunphy was, of course, Onion City's Festival Director in at least 1989.) The 1994 Festival Director is unknown, but Nina Puglia wrote the Festival Dedication to teacher and writer Marjorie Keller, wife of scholar P. Adams Sitney, who had suddenly passed away at the age of 43.
Also notably, one of the awards was named the "Sharon Couzin Founder's Award". In our research, Couzin is never quite named as the official, singular Founder of the Experimental Film Coalition, even as her name is extremely prominent in the organization's founding.
Below is the list of films that screened, along with notations about the award winners.
Thine Inward Looking Eyes, dir. Thad Povey (Winner: The Will Hindle Award)
Left Alone With Night, dir. Eric Deutschman
Syphon Gun, dir. K.C. Amos
Vivus Funeratus, dir. Stefan Stratil (Winner: Director's Choice)
Sculpted, dir. Zack Stiglicz
Chamelion, dir. Rob Butterworth
Mother Load, dir. Betsy Weiss (Honorable Mention)
Calling Cards, dir. Steven Subotnick
Dr. Alzheimer's Medicine Show, dir. Richard A Schatzman
Days of Dan, dir. A.R. Garfield
Street, dir. Michael Dwass
Roots, Thorns, dir. Diane Kitchen (Winner: Special Citation)
Family Portrait, dir. Scott Kravitz (Honorable Mention)
The Devil's Book, dir. Steven Subotnick (Winner: The Doug Haynes Memorial Award)
Condomnation, dir. Anne Chamberlain (Winner: Judges' Pick — Laurie Dunphy)
Mechanical Fatigue, dir. Serge Vladimiroff
The Little Lieutenant, dir. Henry Hills, Sally Silvers (Winner: Special Citation) (Watch online)
Panopticon, dir. David Fain
Home, dir. Ulrike Reichhold
Amazona, The Last Dinosaur, dir. Tommi M. West
5926, dir. Andrew Hooks
Where Could You Be?, dir. Alexis Raskin (Honorable Mention)
Coiled, dir. Zack Stiglicz (Winner: Judges' Pick — Lynne Sachs)
(mas'ter-ba-shen), dir. John E. Spitzer (Honorable Mention)
Nostos, dir. Sheri Willis
Red, White, Blue and Yellow, dir. Angela D. Chou (Winner: The Sharon Couzin Founder's Award)
Parallel Space: Inter-view, dir. Peter Tscherkassky
If You Lived Here, You'd Be Home By Now, dir. Marina McDougall
Do, dir. Andrew Fort
1995
The Onion City Film Festival archive website also has of what appears to be a PDF of the interior pages of the 1995 edition of the festival, which we have transcribed the list of films that screened below:
Which Way Is East, dir. Lynne Sachs
Passage A L'arte, dir. Matthew Arnold
Americanized, dir. Yasuhiro Ikeguchi (Honorable Mention)
Urbana, dir. Brian Burroughs
Roswell, dir. William Brown (Honorable Mention)
Rhythmus 94, dir. Thomas Renolder
Siren, dir. Roslyn Broder
Seven of Worlds, dir. Erin Sax
Gasping for Air, dir. Michelle Bishko
A Journey, dir. Gerda Grossman, Margit Eschenback
Stain, dir. Matt McCormick
Excursions, dir. Mark Street
Gunther 39, dir. Johannes Rosenberger
Oat-Meal, dir. Relah Eckstein
Revision, dir. Chana Pollack
Utopia, dir. Brad A. Rappa
Statuary, dir. Laura Colella (Winner: Will Hindle Best of Festival Award)
The Accursed Mazurka, dir. Nina Fonoroff
they don't know who they are either, dir. Hollie Lavenstein
The Silence Between, dir. Jacqueline Turnure (Winner: Sharon Couzin Founder's Award)
Flicker (Unsteady Motion), dir. Paula Froehle
Come to a Point Like an Ice Cream Cone, dir. Heather McAdams, Chris Ligon
Calcutta (Go), dir. Hans Scheugl
S.O.S. Extraterestria, dir. Mara Mattuschka
Tool, dir. Shaz Kerr
Echolalia, dir. Al Nigrin
Love Stories My Grandmother Tells, Part One, dir. Dana Plays
Hope, dir. Michelle Handelman, Monte Cazzazza
Mulching Blade, dir. Michele Lapesche (Winner: Judge's Pick — Michelle Fleming)
Re Generation, dir. Stuart Gaffney
Penumbra, dir. Hilary Morgan (Honorable Mention)
The People in the House, dir. Louise Bourque
The Smell of Burning Ants, dir. Jay Rosenblatt (Winner: Doug Haynes Memorial Award)
The Exquisite Hour, dir. Phil Solomon (Winner: Judge's Pick — Vicki Honeyman)
1996
The final PDF of the Onion City Film Festival during the Coalition years is for 1996. Only two pages are provided and it is not known if this is a complete list of films that screened, as it seems like a much shorter list than 1995.
Wind/Water/Wings, dir. Barbara Klutinis
Film Spricht Viele Sprachen (Films Speaks Many Languages), dir. Gustav Deutsch
Baptism of Thieves, dir. Richard Foley
…was once a little girl who…, dir. Hellin Kay
Tausend Jahre Kine (Thousand Year Cinema), dir. Kurt Kren
The Kaiulani in Winter, dir. Matt Heffelfinger
Angus Mustange, dir. Stephanie Barber
Still Leben (Still Life), dir. Caroline Weihs, Barbara Graf, Michael Domes
Particle Physique, dir. John Turk
Truth Syrum, dir. Brady Lewis
Oasis, dir. James Schneider
The Idea of North, dir. Rebecca Baron