Exclusive! Photo And Interview For The Fall Of The House Of Usher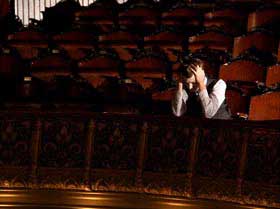 Musician William Beckett strikes a distraught pose in an exclusive photo from the upcoming adaptation of Edgar Allan Poe's classic tale The Fall of the House of Usher.  The film will be the acting debut for the frontman of the popular rock group The Academy Is… He'll be starring as the film's Narrator. (A larger version of the above photo can be seen below.)
Connecticut-based filmmaker Nathan Wrann is helming the adaptation, which is currently in pre-production through his company Dalton Gang Productions for a 2011 release. Promotional images and video were shot earlier this month by photographer J. Sibley Law in order to start developing the film's visual feel. Some of these photos, which are signed by both Beckett and Wrann, are available for purchase on the film's website.
After directing two contemporary-set films — the horror movie Hunting Season and the deconstructed revenge thriller Burning Inside (reviewed on the Underground Film Journal) — I was curious as to what drew Wrann to adapting this classic, period-set story. He was gracious enough to answer a couple of my questions:
Underground Film Journal: Are you a huge Edgar Allan Poe fan? What inspired you to adapt this story?
Nathan Wrann: Before starting this project I wouldn't have classified myself as a "huge EAP fan." Sure, I was familiar with his work — especially his more popular stories and poems, …Usher, …Amontillado, The Raven, Annabelle Lee, etc. — but I probably hadn't read any Poe in a really, really long time.
After starting this project I have become a huge Poe fan. For research and in adapting the short story I read a lot of his work and a ton of analysis. I think I'm at a point now to have a much better appreciation for Poe's way with words.
The inspiration to do this specific story came simply from reading it. I think Poe may have seduced me with his words because I read it a couple of times, decided to do it, but when I sat down to adapt it I discovered that, in reality, there is very little visual action in this story.
The brilliance of this story lies in Poe's beautiful writing, but most of the 30 pages or so of the short story are descriptions or inner thoughts of The Narrator, which doesn't translate well to the screen. So, it was challenging to adapt it to a visual medium without creating new plots, subplots or characters as have been done in past adaptations of it.
Also, after making two movies that revolve around revenge I wanted to do something that didn't touch on that theme.
UFJ: The Fall of the House of Usher was one of the first avant-garde films produced in the U.S. Then, it was also adapted by Roger Corman in the '60s during his "Poe period." Are you taking any inspiration from either of these two versions?
NW: I've never seen any previous adaptations of The Fall of the House of Usher. When I was struggling with the script, I considered it. But decided against it because I didn't want any overt influence or homage to those that came before. After I make my version, I'll be sure to check them out.
UFJ: While Poe clearly created timeless literary works, what do you think specifically this story has to say to audiences in 2011, when you're planning to release the film?
NW: I think that there is a lot of disconnect between people. Especially on a broader scale there seems to be a rift in this country whether it's financially: Wealthy vs. middle class; Or, politically: Conservative vs. liberal; Or religiously: Christian vs. Muslim.
Poe wrote …Usher about 20 years before the U.S. Civil War, which was the greatest rift in American history. With the cyclical nature of things who knows where we'll be in 20 years, but let's hope it's not at war with ourselves. The fact is that we're all in this crazy world together and Poe's story kind of speaks to that.
UFJ: Have you found your actual "House" yet?
NW: Yes. The "house" is virtually the 4th character in the tale so the right location is very important. As you can see from the photo I sent, my adaptation doesn't actually take place in a mansion. I'll leave it at that, for now.