Epileptic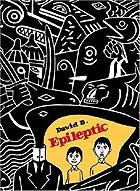 In the mid to late '90s, there was a minor boom in the autobiographical comics boom, led mostly by the "Canadian Mafia"–Chester Burns of Yummy Fur, Joe Matt of Peepshow and Seth's Palookaville. All three had started out working in other genres, like sci-fi, superheroes and absurdist comedy, before dissecting their lives in comic form at roughly the same time.
These guys, of course, didn't invent the autobio genre, which has been a staple of the underground comix scene since the late 1960s and which reached its apex with Harvey Pekar's American Splendor series begun in the mid-70s. Yet, despite all of this autobiographical activity going on in comics, it's still a relatively small subset within a larger medium still dominated by superheroes.
But regardless of the "typical" comic book reader ignoring these kinds of books, autobio comics are probably the most well-received genre by non-regular comic readers. Robert Crumb, who works partially in the autobio field, is a near household name and had an award-winning documentary
made about his life. Harvey Pekar's life was also adapted into a film
that combined recreations of his autobio work as well as documentary interviews. And Art Spiegelman's Maus
won a special Pulitzer Prize in 1992, to name a few.
From France, we get the critically acclaimed Persepolis series by Marjane Satrapi, which is constantly compared to Art Spiegelman's Maus
(which you'll see I didn't do in my review of the books). And now David B.'s immensely well-received Epileptic, which was actually begun in France prior to Persepolis by three or four years.
As for epilepsy, the only person I've known that has been epileptic (that I know of, I guess) was my high school Intro to Computers teacher and I never saw her have a fit. And the only time she ever told us she had one was the only time she ever went driving. Of course, during the drive she had a fit and caused an accident. I think she rammed some guy if I remember correctly.
But I always thought epilepsy was a pretty controlled disease through drugs and maybe it is now. However, David B.'s book is all about growing up with his older brother who suffered one to three or more epileptic seizures per day. Traditional medicine didn't work on him, so the entire family became obsessed with alternative medicine and spiritual techniques that they all had to adopt in order to find a cure for Jean-Christophe, like macrobiotics, acupuncture, magnetizing, getting dunked in the water at Lourdes and other far-out ideas.
With the whole family rallying around Jean-Christophe, there doesn't seem to be much time left for David B. who lashes out in anger at his older brother and retreats into an artistic fantasy world. David spends much of his time writing and drawing about massive battle scenes and obsessing over barbarians like Genghis Kahn. And then there are the ghosts, particularly his deceased grandfather's.
Since David perceives his childhood as being trapped in a brutal and nightmarish world–both in his fantasies and his realities–the artwork of Epileptic is a densely packed black and white abstracted swirl somewhat reminiscent of German expressionist films combined with ancient religious iconography. The art sucks the reader right into the frustration and agony of the young David's mind.
And one last little note: Epileptic is a beautiful, complex and harrowing work with an extremely rich tapestry. But, my favorite part is a brief throwaway scene. David tells of his parents taking the kids to "art films" to broaden their horizons and the film David picks to illustrate the sequence is Greaser's Palace
, one of my favorite movies. David doesn't write the name of the movie in the book, but I knew what he was referring to when his sister asks "Who was that man who had to poop all the time?" The answer: "That was supposed to be God, honey."

Buy Epileptic from Amazon.com!