Ed Halter Opens Light Industry In Brooklyn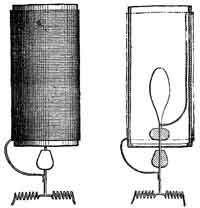 Ed Halter and his partner Thomas Beard are opening a new space in Brooklyn, NY dedicated to film and electronic art called Light Industry. The duo are also presenting the first screening event called "The Blazing World," which will feature several short films based on the concept of utopia and will take place on Tuesday, March 25 at 8 p.m.
This is really exciting news. Ed was, of course, the director of the New York Underground Film Festival for a decade before passing the baton just a few years ago. While Ed's kept himself busy with a book on the relationship between video games and war, From Sun Tzu to Xbox, and other writings, it's great to see him back with a new screening series.
Light Industry is planned as a series of weekly events that will be curated by different artists, critics and curators, including this impressive list: Peggy Ahwesh, Cory Arcangel, Rebecca Cleman, Ben Coonley and Michael Smith, Bradley Eros and Brian L. Frye, eteam, Kendra Gaeta and Laris Kreslins, David Gatten, Lia Gangitano, Sandra Gibson and Luis Recoder, Sabrina Gschwandtner, Nick Hallett, K8 Hardy, William E. Jones, Andrew Lampert, Dennis Lim, Mark McElhatten, MTAA, Marisa Olson, Jacob Perlin, Seth Price, Jennifer Reeves, Eddo Stern, Dan Streible, and more!
For it's opening night, Ed and Thomas' "Blazing World" hopes to set the tone for Light Industry's mission to be an "ongoing social experiment in community that undergirds moving-image art-making." That's nice, but what you're going to really get is a series of kick-ass movie event nights. The films that comprise "The Blazing World" are:
30/73: Coop Cinema Amsterdam, dir. Kurt Kren
Swamp, dirs. Nancy Holt and Robert Smithson
Victory Over the Sun, dir. Michael Robinson
Possible Models, dir. Jenny Perlin
Wildwood Flower, dir. Keewatin Dewdney
Berenice, dir. Michael Gitlin
For more info, please visit the official Light Industry website. I'll also try to keep up-to-date with future events here on the Underground Film Journal.