Echo Park Film Center: Mock Up On Mu

Feb. 11
8:00 p.m.
Echo Park Film Center
1200 N. Alvarado Street (@ Sunset Blvd)
Los Angeles, CA
Hosted by: Other Cinema
San Francisco underground filmmaker Craig Baldwin will attend this special screening of his latest magnum opus, the genuinely epic collage narrative Mock Up on Mu.
Mock Up on Mu has more going on in it per square inch than any other film ever made. It is also the most in-depth futuristic history of the weird state of California. L. Ron Hubbard (Damon Packard) is planning to build a resort on the moon called Mu, but to initiate the project he must dispatch Agent C (Michelle Silva) to convince an amnesiac Jack Parsons (Kalman Spelletich) and Lockheed Martin (Stoney Burke) to build a rocket launchpad in Las Vegas.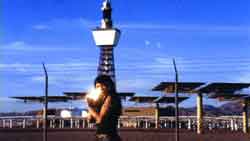 The film combines new footage shot by Baldwin with an immense library of found footage from the filmmaker's massive private stash, some of which includes film shot of the great occultist Aleister Crowley. Twisty and labyrinth, Mock Up on Mu is Baldwin's tour de force of filmmaking that's so unique he had to invent a name for it himself: Collage narrative.
Mock Up on Mu is available on DVD from Other Cinema, but come out for this exclusive screening engagement and listen to the master discuss the film in person. I attended a screening of the film at REDCAT two years ago and my head almost exploded — and it felt good. Read the underground movie review.