Movie Review: Cinemad: Almanac 2009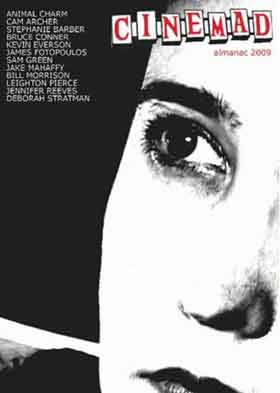 It's arguable who on this planet loves short films the most. What isn't debatable, though, is who the hardest-working man promoting the advancement of the short film format is. That man is Mike Plante.
Plante's been a busy guy promoting short films and their makers ever since he launched Cinemad as a photocopied zine out of Tucson in 1998. Like many zines from that era, Plante has taken Cinemad online and writes regularly for other online publications, like Filmmaker Magazine. In the festival world, he's been a short film programmer for the Sundance Film Festival — which he says entails watching 2,000 short films in three months — and was just recently promoted to Director of Programming for CineVegas. Plus, he's run the innovative Lunchfilm series in which he helps finance short film projects by buying directors a hearty meal.
To celebrate 10 years of Cinemad — ok, 11 now — Plante has put together the Almanac 2009 short film DVD compilation featuring the work of a dozen filmmakers. Nowhere on the DVD does Plante explain why he chose these particular 12 filmmakers, other than he likes them it can be reasonably assumed. Nor does he say if there was an overarching theme to connecting these particular short films. But, whether intentional or not, a theme does seem to emerge.
Have You Seen This DVD?

Amazon
The films do all fall under the rubric of "underground" film, or "experimental," or "avant-garde," or whichever artsy film term one prefers. But, even more precise than that, all the films appear to be meditations on memory, either personal or collective.
Interestingly, the DVD begins with the promise of dynamic action when the first short film, the found footage compilation exercise Edge TV With Animal Charm by Animal Charm, comes blasting out with a glaringly neon title credit sequence and a wailing rockin' '80s theme song. But that quickly gives way to scenes pulled from the 1993 Disney film Homeward Bound, the type of film one might remember fondly from one's childhood. Thus, the grating opening credit sequence provides an ironic counterweight to the fact that there's nothing "edgy" or rockin' in the rest of the film. This also sets up the theme for the rest of the DVD that perhaps our memories that we think define us are creating the wrong definition, e.g. a beloved childhood film that moved us as a kid is viewed as an adult as a piece of tepid, manipulative crap.
Edge TV is followed immediately by the more lyrical above below by Cam Archer in which the voice of an obviously middle-aged woman reminiscing about her former true love is played over the slow-motion images of a pre-teen boy riding his bike through a suburban neighborhood. The overly passionate voiceover meshed with the innocence of the boy's face forges an odd incongruity. It feels implied that the woman is placing an exaggerated over-importance on what must have been simply a childhood crush.
The moody, lyrical nature of above below — both in the voiceover and the images — is carried throughout the rest of the short film selections giving the DVD an overall meditative quality. For example, in the silent letters, notes, Stephanie Barber types out personal missives over faded old photographs. As the letters are slowly typed out, we have the time to contemplate what the images behind them might refer to and become more involved in these personal stories one letter at a time.
In the equally silent The Sun by James Fotopoulos, the camera lingers over a female subject, allowing us to fix our penetrating gaze on her and contemplate her features. Kevin Jerome Everson's verité Pictures From Dorothy isn't silent, but also fixes its camera's gaze on the residents of a small town as they perform chores and go to city council meetings, giving us some insight into what life there might be like. While both these films have captured immediate, modern moments, it also appears as if each director have filmed their subjects with an eye towards their history with them.
The idea of collective memory and history is explored in Bruce Connor's Valse Triste, a sepia-toned found footage film. The movie opens with what appears to be a film from the '50s. A young boy wearing pajamas crawls into bed and falls asleep, with the rest of the film assumed to be his dream. But, his dreams are not concerned with young boy things. Instead he dreams of the history of America from an agrarian society to an industrial one, with a slowly moving locomotive marking the progress of time.
Sam Green's contribution, lot 63, grave c, is the one true documentary on the DVD. Everyone knows the story about the '60s Rolling Stones concert at Altamont where the Hell's Angels stomped a poor guy to death. But who really knows who that poor guy was? Green goes to find out and discovers a man who has not only been largely ignored by history, but ignored even by his own family. He lies in a cemetery in an unmarked grave.
Combining documentary and fiction in Motion Studies, Jake Mahaffy combines the live radio communication caught during the death of a cosmonaut during a mission with the images of a man testing a tree branch's strength before hanging himself.
A tragic memory is also explored in an excerpt from Jennifer Reeves' B&W experimental feature The Time We Killed. A woman's enigmatic voiceover leads us to believe that someone, probably a live-in lover, has died while scenes of a happy woman building an art installation are intertwined with completely abstract shots, shots of the Manhattan skyline and close-ups of various people around the city. It's as if the memory of the death is so painful, the mind is desperately trying to think of anything else but that lover.
Both Bill Morrison's Light Is Calling and Leighton Pierce's Viscera have a very dreamlike quality to them. Morrison achieves this by projecting decaying and bubbling film of an old silent movie set during a war: Two soldiers on horseback ride along until they come upon a woman rolling around in a field, while the soundtrack is a haunting, original classical music score. Meanwhile, Pierce achieves a dreamy haze by slowing down and blurring everyday shots of motion: Sneakers run up the stairs, a bright read skirt swirls while feet dance underneath, a child swings on a swing. Pierce's images blur their way across the screen the way images of the past sweep across our memories.
The DVD concludes with three films by Deborah Stratman, collective titled "The Paranormal Trilogy." How Among the Frozen Words is just a few seconds long featuring a stormy horizon and a bloodcurdling scream while It Will Die Out in the Mind is just written text on the screen that calmly derides any belief in the supernatural, yet being absolutely clear that whoever is communicating that text is just severely disappointed she hasn't experienced any phenomenon herself. Lastly, The Magician's House provides different angles of both inside and outside a small suburban ranch home. We don't know who lives there or why the building is being filmed. There are footsteps creaking on hardwood floors, but we don't see anybody in the home, the way one remembers a familiar place while consciously blocking out the memory of anything that actually happened there.
Since this video Almanac is in honor of a print and Internet zine, the DVD comes packaged with a 60-page booklet of interviews with each filmmaker. Plante is truly a gifted and amazing interviewer. He seems to know exactly what simple question to ask, then sit back and let the filmmaker espouse on their history, philosophy and working processes. The booklet is so insightful and fascinating that it could have been sold as a separate full book, yet comes with the price of the disc.
Short films usually get short shrift in this world of ours, but Cinemad: Almanac 2009 is a short film lover's dream. But the real dream is for the DVD to convert new lovers over to the form. Mike Plante has collected such an amazing array of beautiful work here that finding those converts shouldn't be too hard.
Watch the Cinemad: Almanac 2009 movie trailer: