Movie Review: Nomads And No-Zones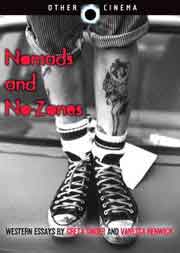 I didn't actually have to watch this DVD from Other Cinema to tell you that it's awesome, totally rocks and that you need to get it right now. But, I did watch it. Why? Because it's awesome, totally rocks and you need to get it right now.
This is a short film compilation of two of my favorite filmmakers from the couple years I attended the New York Underground Film Festival, Vanessa Renwick and Greta Snider, and it's a genius move on the part of Other Cinema to stick them together. While outwardly their films don't look similar, even down to the basic fact that all of Snider's films are shot on 16mm, while most of Renwick's work collected here is on video (one of her films here is on 8mm), they do both share a celebration of the outsider.
Although both directors hone in on the wanderer's spirit, their work also feels as if it's grounded in a very clear sense of space and location. Snider is based in San Francisco, while Renwick runs the Oregon Department of Kick Ass out of Portland. Sometimes their subjects head out on the road to find something within themselves, or they may be people stuck in one spot, but who send their souls out to uncover the grand mysteries of life. Whether these subjects are the filmmakers themselves or others, Snider and Renwick have a beautiful knack for using geography to explore the inner map of human consciousness.
The way the DVD is setup, you have one of three choices to experience the flow of films. One is to pick and choose to watch the films in whichever random order you want. Two is to watch all of each filmmaker's films together, i.e. watch all of Snider's in a row, then Renwick's, or vice-versa. Three, which is what I did, and that is to let the disc play one film of Renwick's, then one of Snider's, then one of Renwick's and on and on. This last option also plays the films in both directors' sequential order, from their oldest films to their newest. Neither director sticks to just one style for all of their films, even though all of them are documentary or documentary-ish, so then to also flip back and forth from Renwick to Snider, really keeps the flow of films varied and unexpected.
Also, this DVD isn't even close to being a comprehensive collection of either filmmaker's body of work. Although there's a good, dense, satisfying selection of films on this disc, there's a lot more not included. Hopefully, those films will make it out in some other form.
Below are my reviews for each individual film. I'm also going to write up the films divided up by filmmaker so that this article is easier to read, even though this isn't the order I watched them. Also, I feel like I enjoy both directors equally, but I have to pick one to start with first, so that will be:
Greta Snider:
Hardcore Home Movie (1989). This is a brief document of the hardcore music movement. On the soundtrack we listen to different fans talk about what the music means to them, while the B&W visuals are simple portrait shots of these fans. Whether the people speaking are the same ones caught on camera we don't know. One monologue will run over several portraits. There's also some limited concert footage and I assume the film was made either before, during or after the performance being shot. The entire piece comes off as a cross between the definitive punk documentary Punking Out and Andy Warhol's screen tests. It's a nice snapshot of a particular moment in music history. Usually that history is told from the bands' perspective, so it's always nice to hear what the view from the fans.
Portland (1996). Like Roshomon, this B&W documentary tells the story of a disastrous trip Greta and her friends take up to Portland. But this isn't a jumping on a plane and staying at a nice hotel type of trip. This is more of a "hop the rails with the hobos and crash at an abandoned house" type of trip. The plan is to spend some time drinking profusely and just hanging out, but each person has a different method of travel and the living arrangements aren't up to standard, even abandoned-house standards. Turns out the place isn't quite so empty and Greta and her friends spend most of the time trying to get their stuff back from the home's inhabitants. Although the experience sounds like quite the nightmare, the reminiscing by all three friends comes across rather fondly, as though it were all just a big adventure.
No-Zone (1993). This is a collection of five short films on the poisoning of the environment from five different perspectives. One guy discusses the strange barrels that hang outside his home and what may be inside them; another shows what kind of freely-growing plant life one can survive on in an urban setting; another describes the joys of being destitute on the road; then there's a first-person account of coping with the fear of disease; then a skateboarding video; and finally a guy talks about recycling used atomic surplus items. This is Greta's longest, most oblique film and possibly her deepest. It's a very moving piece.
Urine Man (2000). Greta interviews the homeless guy living outside her home. "Interview" might be the wrong word to use. "Lets him rant" is more like it. He's not called the "urine man" because he smells like piss, but he advocates the drinking of piss for self-sustenance, as well as eating one's own semen. There's also more cosmic topics discussed about whether we're looking out into the universe or inward into a self-contained system. Watching this, I got to thinking there probably should be a larger project about interviewing the homeless to capture their unique points of view. The Urine Man is extremely fascinating, but I'm glad I'm not the one who had to hold up the microphone to his face.
There is also an audio piece by Snider called "I Heard You Were Dead," as well as three different Flash games she designed that you can play on the computer.
Vanessa Renwick:
The Yodeling Lesson (1998). There's yodeling on the soundtrack, but you won't really learn how to do it yourself. Instead, the music accompanies a bike ride by Moe Bowstern on the outer streets of Portland. Well, I've never been to the city, but the way the roads seems empty, I'm assuming this is the outskirts. And that's right, Moe just rides her bike. And then she gets 100% naked to finish out the ride.
Crowdog (1998). This is Vanessa's first-person recounting of the 2 1/2 years she walked barefoot everywhere she went. And this is while she was living in Chicago. Eventually, though, she picks up and heads out to an Indian reservation in South Dakota. While Vanessa tells her tale, we just get images of her feet walking down the road with the occasional glimpse of her canine companion's four paws on the same journey. It's a fascinating story of Vanessa's own rootless spirit, the same spirit that infects all of her work.
Richart (2001). This is co-directed with Dawn Smallman as they attempt to document the work of Richard Tracy, a man who became an artist later in life and whose work involves turning junk he finds into sculpture. But these aren't individual pieces that you might find in a gallery somewhere. This is one massive piece of sculpture that completely covers the land around his house. There are individual objects within the overall project, but everything stands together in a unified whole. There's also no telling where the art ends and Richard begins. He sometimes lets the neighborhood kids come in to help him build stuff and he presides over them like a maniacal slave driver. He doesn't tell them what to create exactly so they have a little bit of freedom, but he forces them to work under odd time constraints. Richard is also a compulsive collage-maker with massive stacks of his paper works piled in his basement. Is it all art or is it just obsession?
Westward Ho! (2001). This is a very brief spoof of rodeos, presumably shot guerrilla-style at an actual rodeo. Heterosexual macho posturing is sly transformed into homoeroticism, then just blatantly all-out transformed.
9 Is a Secret (2002). This is Renwick's bleakest film. Bleak? It's downright dark and depressing, told in the same first person account style as Crowdog. However, the visuals here are more involved, with lots of different tricks and effects put into place to illustrate a story about dealing with a sick friend, which doesn't end pleasantly, as well as being confronted with different crows at different times.
Britton, SD (2003). Consisting solely of found footage shot in 1938 by Ivan Besse and a haunting organ score by The Distance Formula, aka Johnne Eschleman, this is one of the most profoundly disturbing short films I've ever seen although it's hard even to say why. The film footage is just simple images of children shot on a city street. They stand and pose to have their picture taken and it's hard to know what Besse's original intention was. Was he just simply documenting the kids of the town? Was he just testing out a new camera and thought he'd shoot some cute children? For some reason, just looking at these kids and listening to the droning of Eschleman's organ drove me batty and I had to actively prevent myself from turning the film off before it was over. I couldn't take it, but at the same time I don't know what was bothering me so much. The overall effect just made me feel sad for the whole of humanity. But I don't want it to seem that by saying I couldn't "take" the film that I'm saying the film was bad. In fact, I found it great. Something that can get to me that much really deserves special praise. This is an unbelievable film.
More on this film: Amazon | Netflix | Other Cinema