Drew & The Medicinal Pen At Rooftop Films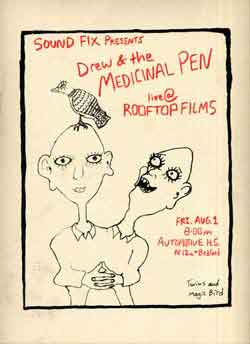 Drew Henkels of the band Drew & the Medicinal Pen — actually he is the Medicinal Pen, too — tells me he's playing at NYC's Rooftop Films screening series again this Friday, Aug. 1 at 8:00 p.m. He'll go on at 8:30, but 8:00 is when the doors open.
I haven't checked in on Drew in awhile, so it was good to hear from him. I don't normally write about music here, but Drew does work with Rooftop Films, makes his own short films and even hosted his own festival back in March, called the Homemade Music Video Festival, which I'm sad I didn't pick up on to post about at the time. You can view the cool trailer for the fest here. Looks like it was great.
Last year, Drew sent me his EP dream, dream, fail ,repeat, which I enjoyed a lot, so this is another event where I have to say if I still lived in NYC, I'd go check him out live. I really like his music and I hope he puts out another CD soon.
Rooftop Films is a fantastic screening series in NYC that I used to cover on the Underground Film Journal and frankly I stopped because it was too hard to keep up the posts on. They simply have too many great screenings! Playing this Friday after Drew is the feature film My Effortless Brilliance, dir. Lynn Shelton, which is described as:
Dumped by his best buddy, a successful novelist voyages into the wilderness to track down his old pal, get drunk in the woods, and hunt cougars in this brilliantly understated comedy about bad friendships between good friends.
You can get full details on the screening on the lawn of Automotive High School, including directions on how to get there, at the Rooftop Films site. There will also be two short films screened before the feature: Snake, dir. Becky James; and I Shot the Mayor (or Plan B), dir. Astrid Bussink.
Also, looking towards the future, Drew is going to be playing on Aug. 9 in Pottsville, Pennsylvania with fellow filmmaker / musician Brent Green. I'm not familiar with Green, but he does something really interesting: He makes stop-motion animation films, then performs the soundtrack to them live with a band.
So far I've watched one of Green's shorts, Carlin, which is a really spooky, sad little film that you can watch below. Looks like it would make for a really fun show:
Carlin (original):