Drew & The Medicinal Pen at Rooftop Films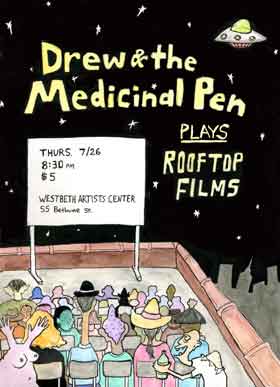 So, I kinda slagged off the Rooftop Films listings this month, which is totally lame of me. However, I got a special note from Drew Henkels who I first "met" while he was interning for Rooftop last year. Now, this year he's the live music performer before the films showing Thursday July 26, which is probably tonight by the time you're reading this.
As if anybody needs me to note the concept again, Rooftop is the summer-long film festival held on rooftops all over NYC. This particular screening is on the roof of the Westbeth Artists' Community at 55 Bethune St. Movies start at 9 p.m., which I'll list below, but if you want to hear Drew perform, he goes on at 8:30 p.m. I have Drew's EP, which is really amazing and which I reviewed here, and here's a party video of him doing his thing. I highly recommend going to see Drew. He's a great guy and a great musician. The short films playing after him are just a bonus. Also below is a really nice poster Drew painted himself for the event.
The short films are listed after the poster:
Flotsam / Jetsam, dirs. Nathan & David Zellner
Toxic Brooklyn, dirs. Trace Crutchfield & Vice
Launch, dir. Brian Doyle
Harrachov, dir. Matt Hulse & Joost van Veen
FourDocs: The Collector, dir. Martin Hampton & Leonie Hampton
Salim Baba, dir. Tim Sternberg
The Show Must Go On, dir. George Fort
Coney Island, USA, dir. Craig Butta
Motodrom, dir. Joerg Wagner
God Provides, dir. Brian Cassidy & Melanie Shatzky
Nijuman No Borei, dir. Jean-Gabriel Periot