Dec. 3: Duncan Reekie Retrospective At London Underground Film Festival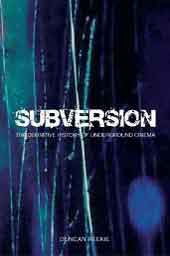 British underground filmmaker and author of the incredible Subversive: The Definitive History of Underground Cinema, Duncan Reekie, will be having a major retrospective of his work at the London Underground Film Festival this week. On Dec. 3 at 7:30 p.m. at the Horse Hospital, Reekie will screen his early Super 8 films, recent digital video works and debut a brand new expanded cinema performance.
Reekie has been making films for over twenty years that, according to the filmmaker, "explores a variety of styles, techniques and purpose, including narrative drama, scratching and colouring celluloid, multiple superimpositions, video collage and lyrical visions." Plus, he is also known for his notorious expanded cinema events where, along with projected images, he performs original, scathing rhetorical rants that "is often mistaken for irony."
In addition to his films, Reekie has been a strong organizing figure on the British underground scene as a founding member of the Exploding Cinema Collective, a coalition of filmmakers looking to expand notions of not only how films are made, but how they are screened and distributed.
Below, you'll find a lineup of the films and performances that will be included at this special retrospective on the 3rd.
Then, on Dec. 4 at 6:00 p.m., LUFF will also screen the rarely seen Maldoror (2000), an epic, avant-garde jam film adaptation of the notorious novel by Lautreamont. The Maldoror project was spearheaded by Reekie and Karsten Weber of the German Filmmgruppe Chaos and includes short chapter adaptations of over a dozen international avant-garde and experimental filmmakers.
The Underground Film Journal reviewed Maldoror during a stop on the film's 2000 world tour at the New York Underground Film Festival.
For more information on Duncan Reekie, please visit his official website.
Here is the list of films screening at the retrospective:
How We Are Born
A doctor explains the facts of life
1994 performance/ music/ Over Head Projector (5 mins)
DESTROY ALL MOBSTERS
A searing indictment of Avant Garde pretension.
Super 8 and performance 1993 (9.5 mins)
STICKLEBACK
Underexposed beach hi-jinx – scratched and hand painted.
Super 8 1994 (3 mins)
HAVELESS
My life underwater
performance/ music/ Super 8 1992 (13 mins)
THE CHAMP
A heartbreaking drama in which a man seeks to come to terms with the death of a beloved companion.
Video 1996 (8.5 mins)
FILM AGAINST FILM
The working class brainwashed by Avant garde film.
Starring Michael Caine and Malcolm le Grice.
Video 2006 (8 mins)
SON OF OEDIPUS #3
A psychedelic romp through Freudian lust in scratched and hand coloured celluloid. Featuring a NEW score by the fabulous Dog Rack
Super 8 2001 (10 mins)
Lord of the Wasps
The killer awoke before dawn
2005 performance/ music/ video (5 mins)
ARGONAUT
A journey into the heart of your own eyes
Video 2009 (7 mins)
The King in Darkness
A psychedelic/materialist reworking of H.P. Lovecraft and his cult.
Video 2008 (14 mins)
The Silence of Oz
Pay no attention to that man behind the curtain….
Video 2011 (4 mins)
My Arkive
Into the golden dawn…
2008 performance/ music/ video (5 mins)
From My Shadow Collection
Section 6. Sunlight through trees : wind
Video 2011 (6 mins)