David F. Friedman, R.I.P.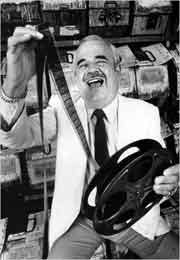 Legendary B-movie producer David F. Friedman passed away on Monday in a nursing home in Anniston, Alabama. He was 87 years old.
Although director Herschell Gordon Lewis is typically credited as the Godfather of Gore, i.e. the man who invented the splatter movie with his infamous 1963 horror flick Blood Feast, the film was in fact a collaboration between Lewis and Friedman. The two men came up with the general story while Lewis directed it and Friedman produced.
The two men had originally started out making "nudie cutie" and nudist colony cheapo films with titles such as The Adventures of Lucky Pierre (1961) and Nature's Playmates (1962), until Lewis struck upon the idea of making a film that included the kind of graphic violence that Hollywood studios had shied away from.
Friedman produced Blood Feast with just $24,500 and the film was allegedly a runaway box office smash, encouraging the two gore-mongers to up the production value on a series of subsequent horror movies, such as Two Thousand Maniacs! (1964) and Color Me Blood Red (1965)
However, Friedman didn't just stick with blood and guts after those successes. He continued on producing movies with naked women who kept their vital organs inside their bodies and capitalized on late '60s and early '70s counter-cultural themes, such as The Acid Eaters (1968), Starlet! (1969) and The Big Snatch (1971). One of his other biggest successes, though, featured a sickening combination of sex and gore: Ilsa, She Wolf of the SS (1975).
Friedman's output dwindled by the mid-'80s, but he happily rode the wave of cult celebrity that accompanied him when his prodigious filmography enjoyed a revival during the VHS and, later, DVD booms. Much of his work has been released by Something Weird Video and, in 1990, he wrote his autobiography, the title of which makes no bones about the kinds of movies he made. It's called A Youth in Babylon: Confessions of a Trash-Film King.
Watch the trailer for the David F. Friedman produced She Freak: