Damon Packard: An Appreciation
Although I'm not all that familiar with his work, Damon Packard's name has been popping up a lot lately, so I thought I'd just do a little tying of the chorus together.
What tipped me off first was a blurb on GreenCine Daily, pointing me towards a two-part article on PopMatters. Part one,"Sucking Cinema Through the '70s," is a general overview of the director's career and begins with the line:
He's the most visionary filmmaker of his generation, a genius toiling away in relative obscurity while others of his ilk milk the Internet and festival circuit for every last fame whoring morsel.
Then the second part, "The True Disco Inferno" gets into the nitty-gritty of reviewing the man's films, including Reflections of Evil (Watch Online), The Untitled Star Wars Mockumentary, Grizzly Redux, SpaceDisco One and some of his short film compilations. Read back-to-back, the PopMatters articles are really a stunning tribute and instantly make you want to go find out more about Packard and his brilliant ability to mimic and repackage the best of '70s cinema.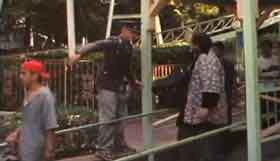 I did review one of Packard's short films on the Underground Film Journal. Other Cinema's excellently eerie compilation DVD Experiments in Terror 2 features Packard's Early 70's Horror Trailer, which I thought was an absolutely brilliant tribute to what the title says. It's not everyday I get to praise a film for it's genius use of architecture, but I got to here.
Then, back in October, the Lausanne Underground Film Festival in Switzerland held a retrospective of Packard's work, including a lot of short films and the feature Reflections of Evil. Here's the fest lineup on the Underground Film Journal and LAUFF's page on Packard, including a nice overview of his career. Here's how LAUFF describes his films:
His work mirrors the decline of a decadent consumer society which does not have control over the rise of information technologies.
If you want to learn more about Damon Packard, he has a ton of video uploaded to YouTube.