2006 Coney Island Film Festival: Official Lineup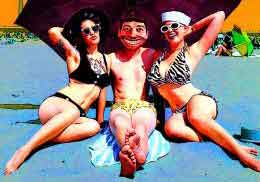 Not an official "underground" film festival per se like I normally post about on the Underground Film Journal, but I really, really like Coney Island and I like how this festival reflects the vibe of the city, so that's why I'm covering it here. Plus, in this year's lineup there's at least one definite "must see": My Life As An Underdog, a documentary about the infamous "Underdog lady" who used to appear on the Howard Stern Show. Looks like she's still dressing up as Underdog and I would have to think any film about her would be perversely fascinating.
The Coney Island Film Festival runs Oct. 6-8 and contains a mixture of feature films and shorts. I'm going to list the feature screenings first, then after the jump I'll list the shorts. Looks like a really great lineup of films. And please visit the festival's website for more info.
October 6
7:30 p.m.:
American Carny: True Tales Of The Circus Sideshow, dir. Nick Basile. A documentary starring sideshow performer extraordinaire Todd Robbins, who takes viewers on a journey down the historic road of American sideshows from the old-fashioned traveling circus sideshow tents to the very last "ten-in-one" sideshow performance space, located right in Coney Island. (I've been to the Coney Island sideshow space several times personally myself and I loved it.) Opening night film! Including after-party shindig with entertainment by Coney Island performers.
October 7
1:00 p.m.:
My Life As An Underdog, dir. Boris Gavrilovic. As mentioned above, a documentary on the infamous "Underdog lady," Suzanne Muldowney, who has devoted her life (and body) to promoting the ideals of the superhero, Underdog. A must see. Preceded by two short films: Some Dreams Come True, dir. Christopher Kenworthy; and The Story of Bubbleboy, dir. Sean Ascroft.
5:00 p.m.:
American Stag, dir. Ben Meade. A documentary covering the history of the "stag movie," the precursor to today's ubiquitous porn industry. Preceded by two short films: Available Men, dir. David Dean Bottrell; and Shuffle Mode, dir. Cihan Kaan.
7:00 p.m.:
Pisser, dir. Matt Chertkoff & Jason Campbell. The story of a NYC hot dog vendor who tries to unionize his fellow vendors, but ends up getting involved in his friends' porno movie. No, this is not a documentary.
9:00 p.m.:
Pervert!, dir. Jonathan Yudis. In this homage to the films of Russ Meyer, a college student hopes to solve a bizarre murder. Starring former CA gubernatorial candidate Mary Carey. Preceded by the short film The Threat From Behind, dir. Soren Bailey & Mitchell Bisschop.
October 8
3:00 p.m.:
Creating Karma, dir. Jill Wisoff. An uptight magazine columnist moves in with her hippie half-sister and becomes a New Age flower child. World Premiere!
5:30 p.m.:
Holes In My Shoes, dir. David Wachs. A documentary about Jack Beers, a 94-year-old NYC resident with a colorful past. He helped build Radio City Music Hall, worked on the Manhattan Project and erected the spire atop the Empire State Building, among many other accomplishments. And at 94 he can still rip a phone book in half.
Ok, that's it for the new, original features. There also will be two classic films shown: Walter Hill's legendary The Warriors (Sat. at 10:30 p.m.) and the just about forgotten Boardwalk (Sun. at 1:30 p.m.) by Stephen Verona and starring Ruth Gordon, Lee Strasberg and Janet Leigh.
There's also going to be a virtual ton of short films playing:
October 7
12:00 p.m.:
Itsy Bitsy, dir. David May
The Guide Still Standing, dir. Dima Otvertchenko
Midsummer Dream, dir. Michael Castagnetti
Passion to the Max, dir. Felix Allen
Open Air, dir. Lou Auguste
Sofaking, dir. Shlomo Godder
2:00 p.m. – CONEY ISLAND FILMS!:
Twistin Gorilla, dir. Pacer Burton
The Green Flash, dir. Adam Davis
Astella Development Corporation Celebrates 30 Years of Accomplishments, dir. Juan Carlos Pineiro
I Wonder, dir. Chris DePierro & Amanda Jencsik
Avenue X, dir. Leslie McCleave
The Curse of Coney Island, dir. Jane Rose
The Mirmaids at Coney Island Mermaid Parade, dir. Mustafa Bhagat & Laura de Ney
Red Meat, dir. Aram Bauman & Stephanie Armstrong
I Live In Brooklyn, dir. Bombonia Bombonia
4:00 p.m.:
Walk, dir. Victor Goldfeld
Pitch, dir. Ian Gelfand
Guide Dog, dir. Bill Plympton (also played at Rooftop Films in Sept.)
Messenger, dir. Gary Beeber
The Tourist, dir. James Israel & Jeff Israel
Lyra Lezama, dir. Clayton Haskell
6:00 p.m.:
The Clean Machine, dir. Yael Shulman
130 Seconds, dir. Ronnie Cramer
Smile, dir. Maurizio Zappettini
Misfortune Cookie, dir. Jack Paccione Jr.
Pride and Passion: Negro League Baseball, dir. Robert Cassidy & Chris Cassidy
The Falcons Are 3, dir. Howie Alex
Home Delivery, dir. Elio Quiroga
Sideshow Attraction, dir. Scott Russell
Surf Gang, dir. Katrina del Mar
8:00 p.m.:
Public Bath, dir. Tak Hoon Kim
The Day of the Grackle, dir. Michael Berry
Little Brooklyn, dir. Jillian Buckley
Girlfriend in a Kimono, dir. Dominic Thackray
Dawn Of The Flies, dir. Ronni Thomas
Team Queen, dir. Leah Meyerhoff (Read the underground movie review)
Heaven, dir. Tal Unreich
Tales of Times Square, dir. Paul Stone
Perfidia, dir. Rosario Garcia-Montero
Chingaso The Clown, dir. Elias Matar
October 8
1:00 p.m.:
Crooked Mick of the Speewah, dir. Philip Smith
Winged Victory, dir. Victoria Prince
Conjuring Elf, dir. Christopher Cole Carcich
Que Payasos!, dir. Anna Bowers
License To Play, dir. Ann Rose
Audition, dir. Megan Ehrhart
4:00 p.m.:
Orange Boy: An Inquiry, dir. Hokwon Kim
Sammy and Marry, dir. Hugh Plantin
Kali Ma, dir. William Graham
Beatgirl – A Piece of Action!, dir. Martin Leeper
Yellow Belly, dir. Lisa M. Perry
Zombie-American, dir. Nick Poppy (also played at this year's SouthSide Film Fest)
The World's Worst Job, dir. William Torres
Danny and the Ocean, dir. Abraham Heisler
Disconnected Images, dir. Jack Harari
Tulips for Daisy, dir. Michael Dominic
Stephen Fretwell 'New York', dir. Daniel Wolfe
6:00 p.m.:
Moving Picture Makers, dir. Andrew Fisher
Dentist, dir. Signe Baumane
Happy Trails, dir. Michael Goldburg
The Tutu Fairy, dir. Tim Mattson
Hold, dir. Aloura M. Charles
Linger On, dir. Brian Chillemi
Copperhead Road, dir. Ian Ogden
Half-Hearted Escape, dir. Martin Glenn
Pistolera: Six-Minute Shootout, dir. Omar Solis
Secondhand Smoke, dir. Rhys Daunic
Intro, dir. Bill Poznanski
As always, please visit the Coney Island Film Festival official site for more info and the schedule in a handy grid layout.