Coming to DVD! The Films of Jonas Mekas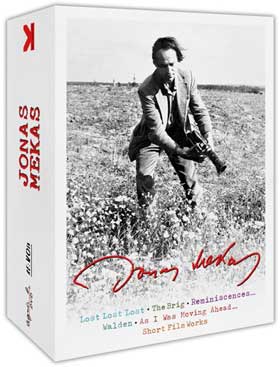 Following rampant Internet speculation, the Underground Film Journal has received official confirmation and lots more detailed information regarding the films of Jonas Mekas that will be released on DVD in 2012.
Mekas' films will indeed be released by a trio of Paris-based organizations — fashion icon agnes b., DVD distributor Potemkine and avant-garde film distributor Re:Voir — and are scheduled to come out in November. A box set collection, pictured above, will only contain a selection of Mekas films: Lost, Lost, Lost; The Brig; Reminiscences of a Journey to Lithuania; Walden; As I Was Moving Ahead Occasionally I Saw Brief Glimpses of Beauty; and a DVD of Mekas' shorter films.
However, the DVDs will also be sold separately and several other films will also be made available through Re:Voir, including Guns of the Trees, Mekas' first film.
Most exciting, though, is that all the DVDs will be released as Region 0, meaning that they will be playable on devices all over the world. Unless, of course, they are rendered in PAL, which would make playback more limited.
To coincide with this momentous release of the films of arguably the most significant figure in underground film history, there are several retrospectives and an exhibition being planned as well. In November, there will be a Mekas retrospective at the Centre Pompidou in Paris, followed in December by an exhibition at the Serpentine Gallery in London and a retrospective at the British Film Institute (BFI).
Stay tuned for even more details in the coming weeks! And special thanks to Mekas' son Sebastian for providing the Underground Film Journal with this information.