Coming To DVD? Jonas Mekas DVD Box Set?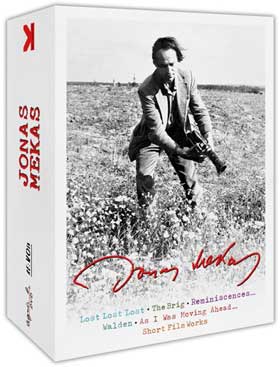 It was only through an enigmatic public Facebook post that it was revealed that a nearly comprehensive DVD box set of the films of Jonas Mekas was in the works. The post only showed the above image with the words "Coming Soon!" But, coming soon from whom and for where?
On Facebook, there was also a link to a DVD page on Mekas' official website that offered a bit more clues. The release appears to be a collaboration between the French fashion designer agnes b., the French independent DVD label Potemkine and the French distributor Re:Voir, which has released Mekas' work on VHS for years.
The Potemkine website lists Mekas' films as individual upcoming DVD releases with no set dates. There appears to be no listing for the box set image that was posted to Facebook.
Most disappointingly, though, is that the Potemkine product pages indicate that the DVDs will be Zone 2, i.e. Europe, only. Will there be a U.S. version available? Most likely not. A quick scan of several other Potemkine releases shows that they pretty much only deal with Zone 2 DVDs, the exception being Nina Paley's Sita Sings the Blues, a film that is known for its free availability.
So, yes, it does look like these films will be available soon, but only in Europe or for savvy U.S. DVD region hacks.
Films that will be available on DVD are Lost, Lost, Lost; The Brig; Reminiscences of a Journey to Lithuania; Walden; As I Was Moving Ahead Occasionally I Saw Brief Glimpses of Beauty; and a DVD of Mekas' shorter films. (Absent is Mekas' first film, the fictional narrative Guns of the Trees.)