The Magic Whistle #8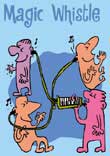 This seems almost futile.
One is either going to appreciate the juvenile humor of Sam Henderson and laugh himself sick, or one is not going to find one whit of what Sam does funny. As for myself, I fall into the first category.
This latest issue forgoes most of Sam's regular characters, e.g. Dirty Danny and Gunther Bumpus, and presents the epic 16-page story "Chugbot." On State U.'s campus, goateed frat boy Beerbomb prepares for the monthly Sigma Kap Monthly Brew-Ha-Ha by having nerdy Nerdberger build him the ultimate party animal, Chugbot! The good times then roll until the giant mechanical keg "cockblocks" one of the Sigma Kap brothers. Can the Brube be recruited back into fraternity life to save the day? And what can New Wave Warrior do, if anything, to set things right? Oh, Chugbot, I never knew it could be like this!
The rest of the issue is filled up with typical Sam anti-humor pieces. There's "My Eyes Are Up Here," where women respond to men staring NOT at their eyes; in "Guys' Night Out" we find out what's more outlandish than having sex with abstract concepts; the new character "Masturbating Boss" is introduced in an unsexy two-page strip; and then there's the atypical political piece — the anti-war adaptation of the pro-war song "An Open Letter to My Teenage Son."
My favorite bits in THE MAGIC WHISTLE, however, are quickly becoming the sketch drawings on the inside front and back covers. Sam's artwork — and writing for that matter — is so simplistic it's intriguing to see the craftsmanship involved in putting the final product. It's like assuming John Waters' PINK FLAMINGOS must have been fully improvised, only to learn later that the film was meticulously scripted.
All in all, more brilliant stuff from Sam. And that's all pretty much I can say.